One of the most fun parts of going on holiday is finding amazing new landmarks to visit and places to explore. But what if you can't afford a holiday right now, or just want a sneak peek at an attraction before you go? We've got good news – the internet has a solution. Google Maps Street View allows you to explore tons of famous cities and landmarks from the comfort of your computer, using 360° views and images to create as realistic an experience as possible. We've picked out our 10 favourite locations on Google Maps – click the image to visit to Google Street View and go for a wander!
When you visit the Big Apple, Times Square has to be one of the first sights on your list. It's best seen at night, when the huge electronic billboards fixed to the buildings light up the whole square.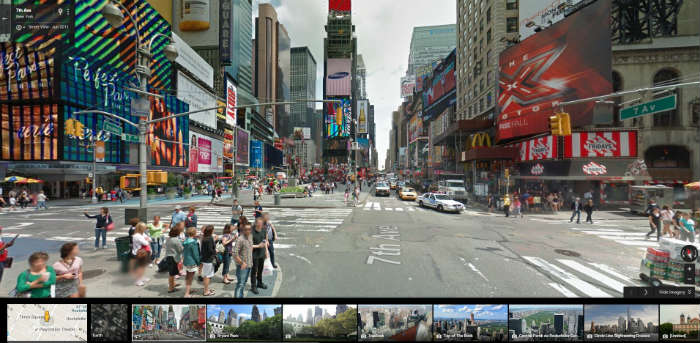 Colosseum, Rome
The Colosseum is a wonder of the ancient world, almost 2000 years old and still standing. Google Maps allows you to view the amphitheatre from both inside and out, helping you to feel like you're really there without having to stand in the ticket queues!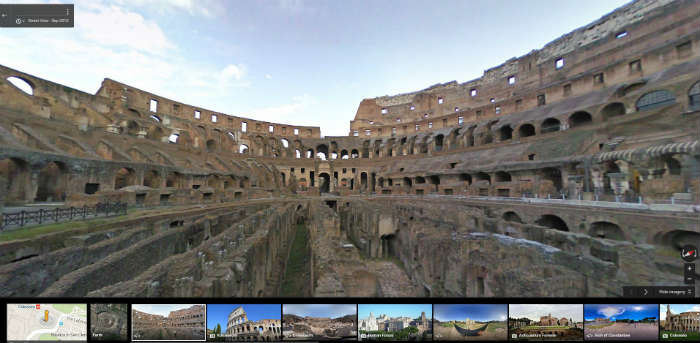 Machu Picchu, Peru
Machu Picchu is famous as being at the end of the Inca Trail, a 4-day hike for only the hardiest of walkers! These days it's easier to get to, with bus services that get you as close as possible to the site, but if your savings don't quite stretch to the flight to Peru, Google Maps is the next best option.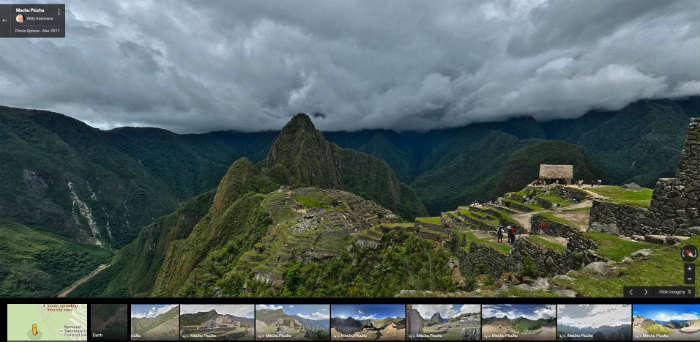 Mount Teide, Tenerife
Mount Teide is the highest point in Spain and one of Tenerife's most popular attractions. If you're heading there anytime soon, get yourself excited for the experience by checking out Google's spectacular views from the top.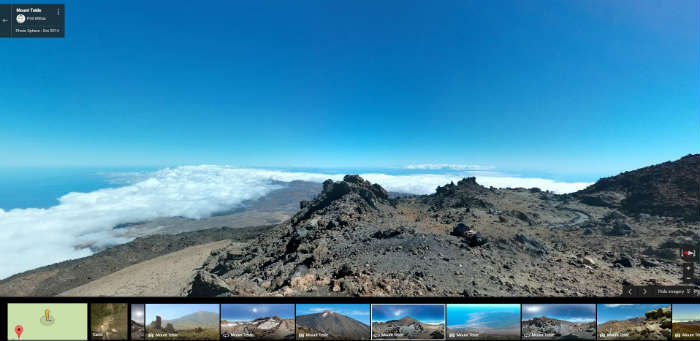 Cenote Ik-Kil, Mexico
Cenotes are natural sinkholes that occur when limestone bedrock collapses to expose pools of groundwater beneath. They're a common occurrence in the Yucatan Peninsula of Mexico, where they're enjoyed by visitors as 'secret' natural swimming pools.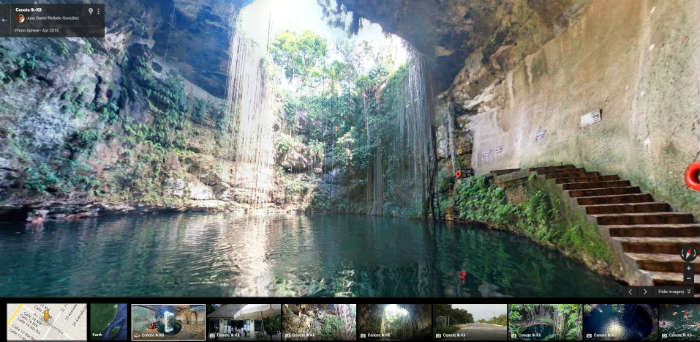 Diagon Alley, London
If you haven't got around to visiting the Warner Bros. Harry Potter Studio Tour, you can now experience the magic online with a virtual wander around Diagon Alley. Put yourself in Harry's shoes and browse everyone's favourite wizarding high street!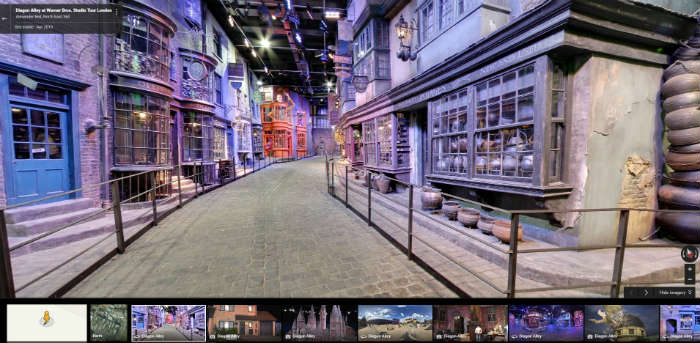 Grand Canyon, Nevada
The true size of the Grand Canyon really has to be seen to be believed, but until then Google has done a pretty good job of capturing it. Usually paired with a trip to as Vegas, the methods of getting to the Canyon include car, bus, hiking…and helicopter.
Burj Al Arab, Dubai
The Burj Al Arab in Dubai is the world's first 7-star hotel, with room prices averaging around £1000 per night in peak season. Unless you win the lottery Google Street View is probably the closest you'll ever get to staying here, but you can get a pretty good peek at the rooms!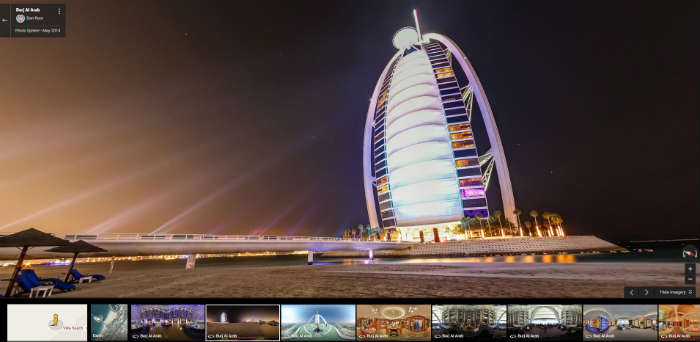 Benidorm Beach, Costa Blanca
There's no mistaking this iconic resort skyline! Benidorm is an eternal British favourite for simple, no-fuss fun in the sun, and this beautiful golden beach leaves us in no doubt as to why.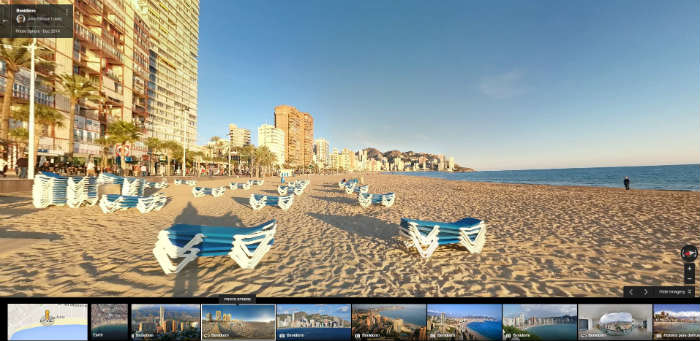 Great Barrier Reef, Australia
Snorkelling the barrier reef is something that features on most bucket lists, but if you're uncomfortable in water or paranoid about sharks there's still a way to see it! Google Maps has a huge range of 360° views and photos to help you get as close to the real thing as possible.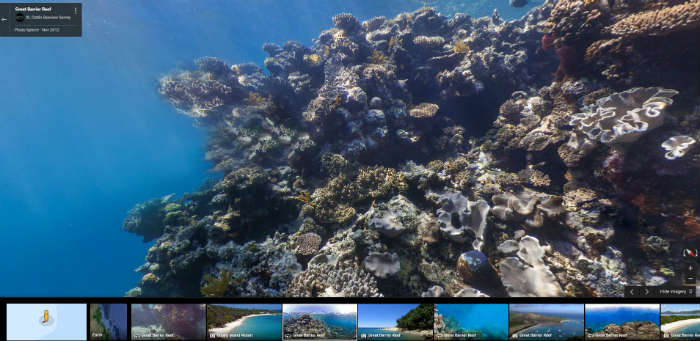 Feel inspired to take your next holiday and see your favourite sight for real? Search and compare today!