Dreaming of a sun-soaked summer holiday spent lazing on sandy shores without the tourists that come with your usual beach resort of choice? Look beyond the coastal hotspots of Costa del Sol, Crete and Tenerife and you'll find destinations with weather just as hot and sand just as golden – all without the crowds!
So say goodbye to scrambling for a spot on the sand this year and try one of these alternative beach breaks instead.
1. Sicily, Italy
Hop across from Italy's south coast and you'll be greeted with hilltop villages, archaeological sites and a whole load of coastal charm on the island of Sicily. Beach breaks here consist of whatever you want them to.
The bustling capital, Palermo, has its fair share of fine sandy beaches including Mondello - a great option for families with its beachside cafes and watersport rentals, while Taormina is known for its luxurious sweeps of sand, dotted with umbrellas and home to various lidos (beach clubs). Alternatively, if you're seeking peaceful moments on sleepy shores can amble between craggy coves and beachy inlets along the Lo Zingaro coastal trail.
2. Malta
Love Italy's romantic towns and sparkling seas? You'll love Malta! This three-island archipelago is home to prehistoric temples, impressive domed churches and its own share of beautiful beaches. Malta is the main island, where you'll find got-it-all resort towns such as Mellieħa and St Julian's and beaches including pretty Armier Bay and Golden Bay.
But for pure beach paradise, it's got to be tiny Gozo and Comino. On Gozo, Blue Flag Ramla Bay is known for its idyllic amber sand and is a great option for families, while Comino is home to the much-photographed Blue Lagoon. Known for its impossibly clear water, swimming and snorkelling are just about all you can do on this uninhabited island, but that's the whole point…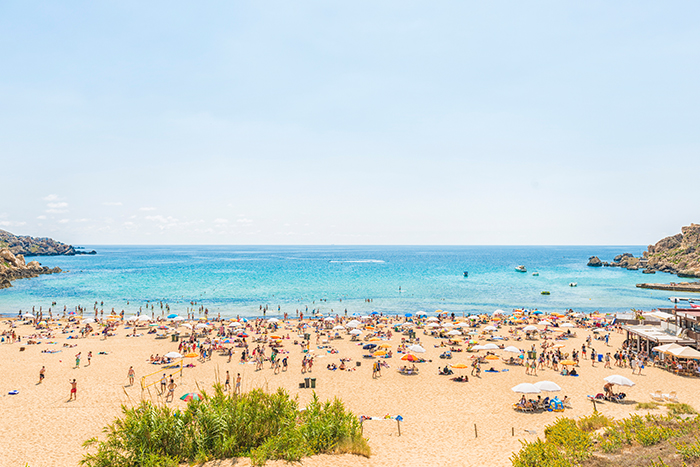 3. Tunisia
While Morocco may be your first thought for a North African beach break, Tunisia's spectacular coastline is sure to make you think again. Summer temperatures sizzle around 30C so you can expect to spend days basking in glorious sunshine and cooling off in the calm waters of the Mediterranean Sea.
Hammamet Beach is one of the most popular thanks to its picturesque sands, beachfront eateries and watersports, while palm-fringed Sangho Beach is the quieter option. When you've had your fill of blissful beaches, explore ancient Roman sites or take a camel ride into the desert.
4. Isles of Scilly, UK
If you're after a beach break that's close to home but still feels like a world away, consider the Isles of Scilly. Adrift off the coast of Cornwall, the archipelago is characterised by unspoilt landscapes, wonderful wildlife and beaches so beautiful they're considered among the UK's best. Peace and quiet comes as standard here so expect tranquil days enjoying empty stretches of sand to yourself and admiring the wonderfully blue water.
As for which beaches to choose, Pentle Bay on Tresco offers a delightful crescent of white sand; Porthcressa Beach on St. Mary's is a great family-friendly option backed by a cafe-lined promenade; and the crystal-clear waters of Rushy Bay on Bryher are an enviable spot for snorkelling.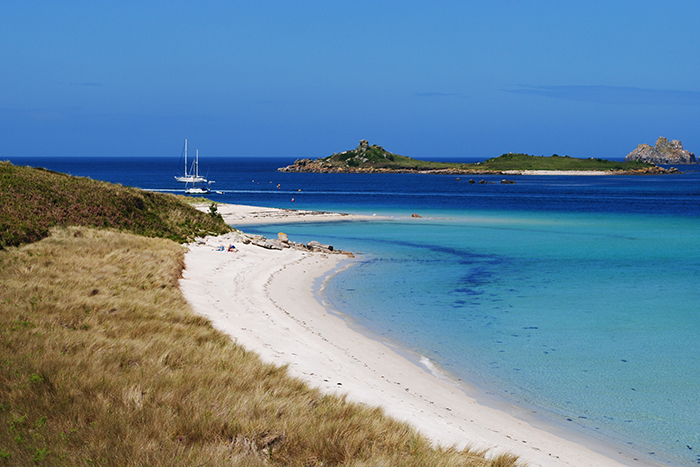 5. Sunny Beach, Bulgaria
Just as its name suggests, the popular resort of Sunny Beach on Bulgaria's east coast delivers both an impressive stretch of dreamy beach and sun-soaked summer weather. Whether you're seeking an all-inclusive escape or a fun-filled family getaway, there's plenty going on here for all types of beach break.
The expansive 8km (5 mile) arc of sandy shore is home to a fantastic variety of hotels and holiday apartments, restaurants selling every type of cuisine imaginable, and countless entertainment options ranging from mini-golf to pony rides. Set up on the sand to enjoy long days full of sandcastles, sunbathing and swimming, then hit up the beach bars and clubs dotted along the waterfront after dark – the nightlife here is just as buzzing as the beach.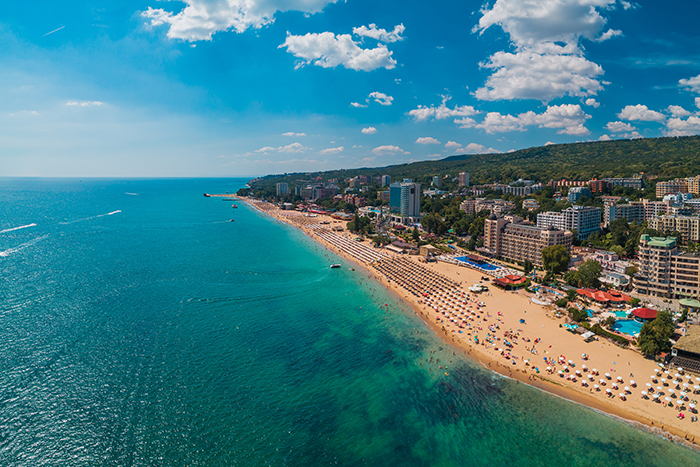 6. Paros, Greece
Skip the tourist-filled streets of Santorini and the masses of holidaymakers on Mykonos! Paros is the new go-to for balmy beach breaks filled with pristine sands and gorgeous Greek sunshine. Hop across on the ferry and you'll find quaint fishing villages, rolling hillsides, quiet swimming coves and seafront tavernas dishing up classic Greek fare.
Embrace the island's laidback vibe and choose from the likes of Kolimbithres, Faragras or Golden Beach for mile after mile of honey-coloured sand. If you're up for more than topping up your tan, try your hand at watersports (diving is one of the most popular activities in Paros), or base yourself near Naoussa or Parikia to sunbathe by day and hit up bars and dance clubs by night.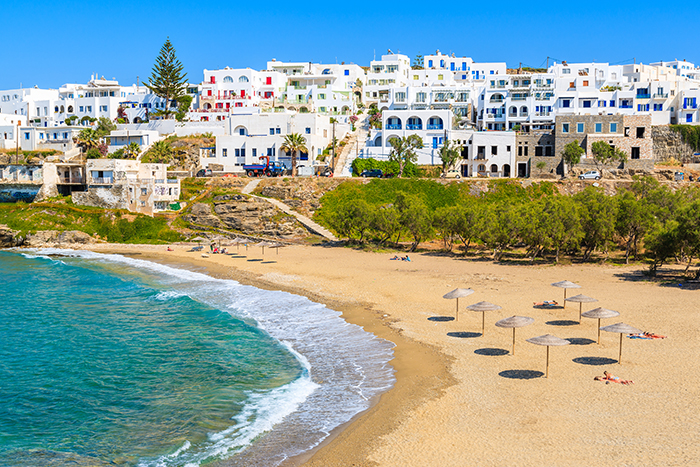 7. Formentera, Spain
Ibiza has built itself a reputation as one of the party capitals of the world, but with that status comes masses of crowds and higher prices. The nearby island of Formentera is measurably calmer and just the place for chilled-out beach breaks. Make the most of tranquil days spent exploring secluded sandy bays, lapped by waters so turquoise you could easily be in the Caribbean.
Illetes, Pujols or Llevant are the most popular beaches in the north or you can adventure down to the small but sublime sands of Calo Des Mort, tucked within a rocky cove on the south coast. If you fancy an activity, browse the local markets, cycle the coastal paths or head into the capital, Sant Francesc, for rustic tavernas and beach boutiques.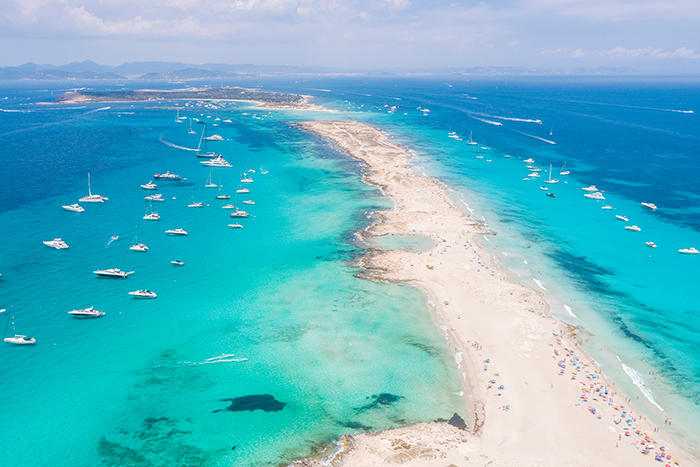 8. Corsica, France
With a stunningly scenic coastline and sun-kissed Mediterranean climate, Corsica is any beach-lover's dream. The French island charms with rustic towns, lush mountainous countryside and an infectious local spirit, and you'll be spoilt for choice when it comes to deciding where to spend your beach holiday.
In the north of the island, Calvi is a firm favourite with its 5km (3 mile) curve of sand and views of the Citadel, while the sheltered azure water shores of Lotu Beach are hard to resist. In the south, both Palombaggia and Propriano are postcard-worthy pebble beaches backed by lush pines and lapped by crystal-clear water. To see Corsica's coast in all its glory, consider a horse-back ride along the beach or hire a yacht for a day out on the water.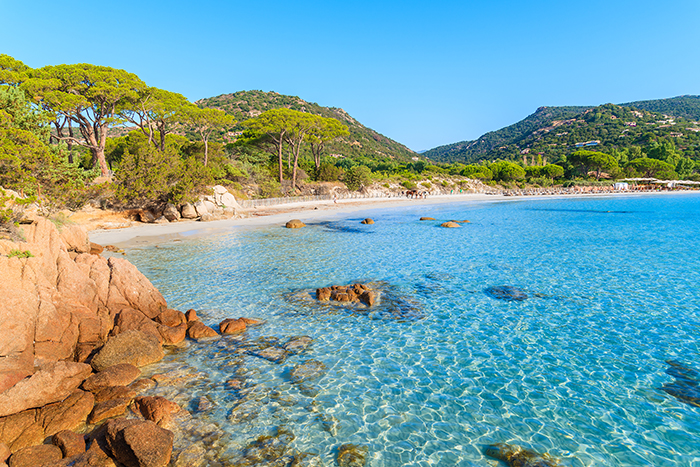 9. Dugi Otok, Croatia
The Greek islands have long been a favourite with holidaymakers seeking sprawling beaches, pretty villages and great nightlife. But Croatia's islands can match Greece on every count – and with considerably fewer crowds.
One of Croatia's best kept-secrets for heavenly beach breaks is Dugi Otok, off the coast of Zadar. The island's name (translating to 'long island') aptly describes its 45km (28 mile) long meandering coastline, along which you'll find pearl-white sand beaches and secluded bays lapped by the Adriatic Sea – Saharun beach and Veli Žal are noted as two of the best. If you're feeling adventurous, why not rent a boat and go hopping around the neighbouring islands in search of even more beach bliss?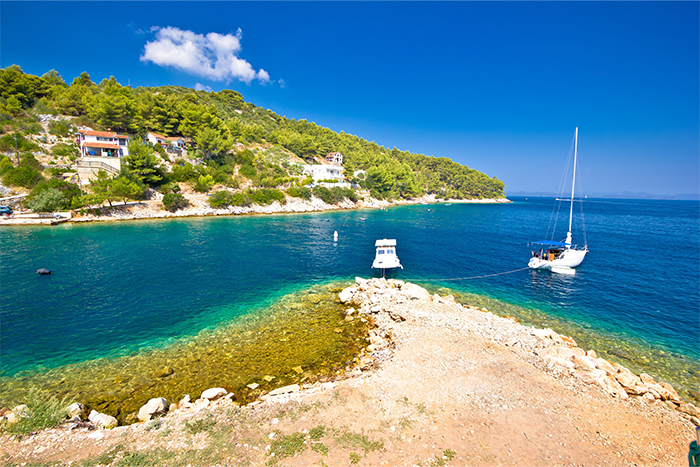 Do you have a favourite beach break destination? Drop us a tweet @icelollyholiday and let us know!