Orlando's theme parks are known as some of the best in the world, with big names like Disney World and Universal Studios attracting millions of visitors every year. With so many rides and so little time, forward planning is essential to make sure you don't miss any of the best bits, and it's always helpful to have a bit of insider knowledge to give you the edge. We asked one of our resident theme park fanatics to give us some expert advice on tackling Orlando's parks!
Location, Location, Location
Orlando's theme parks are fairly spread out, so to minimise driving time, decide which ones you want to be closest to, or might revisit. If you want to stay near Universal Orlando, check out hotels located on International Drive, alternatively if you want to be based closer to Walt Disney World, consider booking a Kissimmee or Lake Buena Vista resort.
Start Early
If you land on a weekday, visit the Magic Kingdom the next morning. Jet lag and excitement will most likely wake you up at around 5am, so enjoy a large leisurely breakfast and arrive at the Magic Kingdom before the park opens. The car park is 45 minutes away from the main Magic Kingdom entrance by Disney transportation; however you'll be rewarded by seeing the Disney characters arrive by steam train to officially open the park with a lovely show only ever seen by early birds.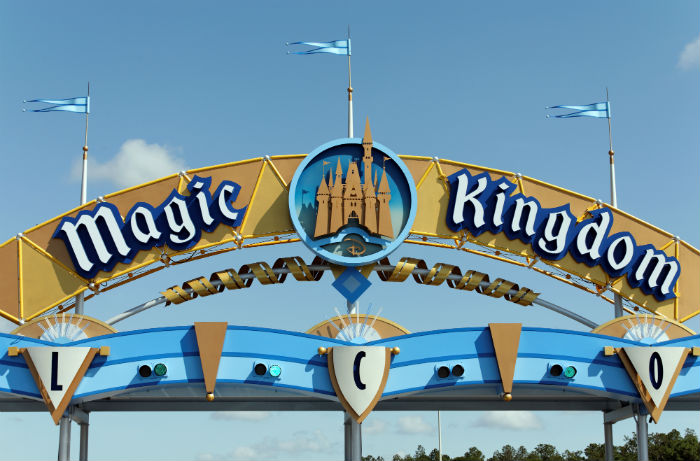 Image credit: Katherine Welles / Shutterstock.com
Avoid the Weekends
Understandably the theme parks are busiest at the weekend, so if you land on a Friday or Saturday why not visit a Disney water park or head to Old Town amusement park in Kissimmee on highway 192 with its famous weekend classic car cruise, traditional fairground rides, mini golf and family restaurants. This is the perfect way to ease yourself into your Orlando holiday!
Shoes – Choose Them Wisely
Don't wear new footwear when visiting the theme parks, instead plump for your comfiest, oldest (sweatiest) trainers. No one is going to think you can't afford new shoes, people will just think you are an experienced theme park junkie. The skin on your heels and your toes will feel so much better for it and you won't need to worry about losing your shoes on the fast rides.

Image credit: Kamira / Shutterstock.com
Treat Yourself to Fast Track
Use the Fast Pass system for the most popular Disney theme park rides. Yes it costs a little extra, but the time you save may prevent you from having to return to the zone or park for a second day. Besides, there's nothing like the smug feeling of breezing past the regular queue VIP-style.
White Clothes and Water Rides Don't Mix
Do not think about wearing white and light coloured clothing when you visit Universal's Islands of Adventure. The park is home to some amazing water rides which will absolutely drench you. You may appreciate the cooling water in the hot Florida sun shine, but what you won't appreciate are your clothes becoming totally see-through!

Image credit: Kamira / Shutterstock.com
Don't Skimp on Sun Cream
Cover yourself in high factor sun cream and reapply regularly even if it's cloudy. It's easy to forget about the sun when you're having fun on rides, but the Florida sunshine is strong and you'll pay the price if you neglect your skin! A hat is another essential – it will protect your head from the full heat of the sun, and make sure you don't end up with a pink scalp.
Know When to Call It a Day
Leave the theme park at an agreed prearranged time. Don't make the mistake of thinking of you're all good for at least one more attraction when it's going to take at least an hour to trail back to the park entrance, get to the correct car park, locate your car and leave the premises. It's not only children who get cranky when they are tired, hot, thirsty and hungry.

Image credit: Kamira / Shutterstock.com
Embrace the 'Dress-Down' Way of Life
Ladies, don't weigh your suitcase down with sundresses, evening shoes and strapless tops. Even if you are heading out to a bar or fine dining restaurant one evening, a nice top, a pair of comfy jeans, a flat pair of shoes and a smattering of make-up will be considered formal attire. Gents, you'll be pleased to know that no suits are needed!
Take a Break
Of course you'll want to enjoy one of the many spectacular firework displays, so in order to fully enjoy the nights entertainment visit the park in the morning, leave around lunch, get your hand stamped and chill out by the hotel pool in the afternoon. Head back to the park as the sun sets and the fireworks will seem bolder and brighter – all because you recharged your batteries.
Compare great holiday deals to Orlando!
By Lindsey Cowgill – icelolly.com's Orlando expert