So you've decided you like the sound of a UK holiday for your next much-needed break, and now all you need to do is choose what you want to do and where you want to go. Perhaps you're considering a cosy cottage stay, maybe a coastal visit, a camping trip or even an adventure in a British city.
Well we're here to throw some, shall we say, whackier suggestions out there for you to think about along with our friends at Host Unusual to put a bizarre twist on your staycation vacay.
Intrigued? Read on to discover 10 brilliant, albeit a little crazy, ideas for your next UK holiday.
Penny Rope Bed Chamber
This prison-themed bed chamber, based in Margate, is a place where visitors can take on the role of a prisoner and leave again in the morning without any repercussions in a completely unique guesthouse experience.
There's no lack of comfort however, with white cotton linen, thick cosy duvets and blankets and hot water bottles to provide extra warmth on chilly nights, along with an outdoor garden area and BBQ facilities on sunny days.
There's no minimum booking period and prices start from £75 per night during low season.
Red Kite Conker
Set high on a grassy hill in mid-Wales, this designer off-grid glamping pod has been expertly engineered for maximum comfort. Complete with a log cabin bathroom and cosy comfort double bed, there's also your own private Swedish-style composting loo right next door and a cutting edge air recirculation system to keep you cool in summer and warm in winter.
Outside you'll find a firepit which is perfect for a bit of marshmallow toasting and also your own terrace to enjoy some nice R&R.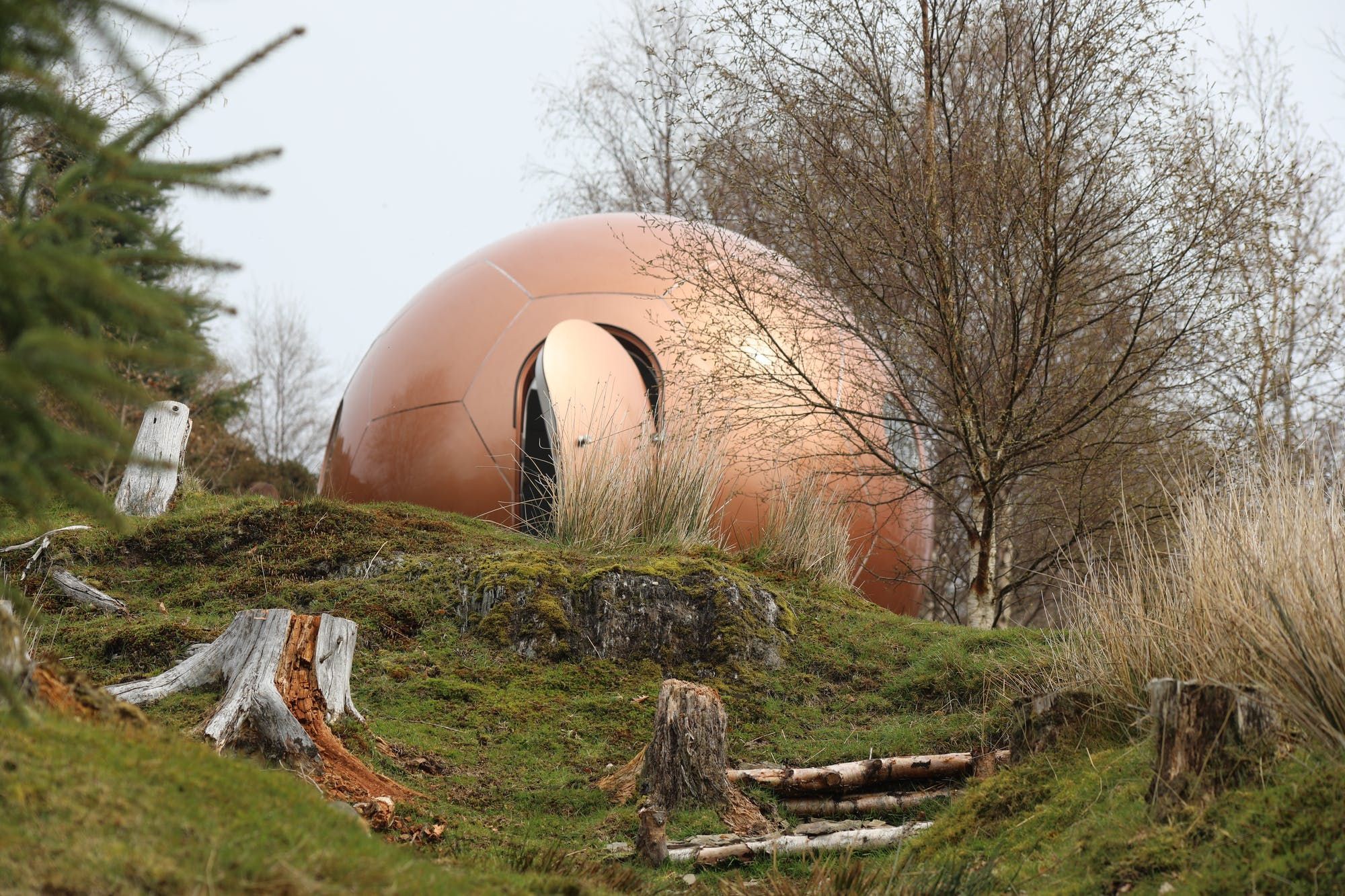 Glamping Helipod
Action and adventure lovers, listen up! This military helicopter can be found on the site of RAF Wainfleet and is situated close to a friendly family run farm, making it the perfect mix of fun and relaxation. It comes equipped with soft bedding, a TV, mini fridge and toasty underfloor heating, whilst the communal games room will get your competitive juices flowing.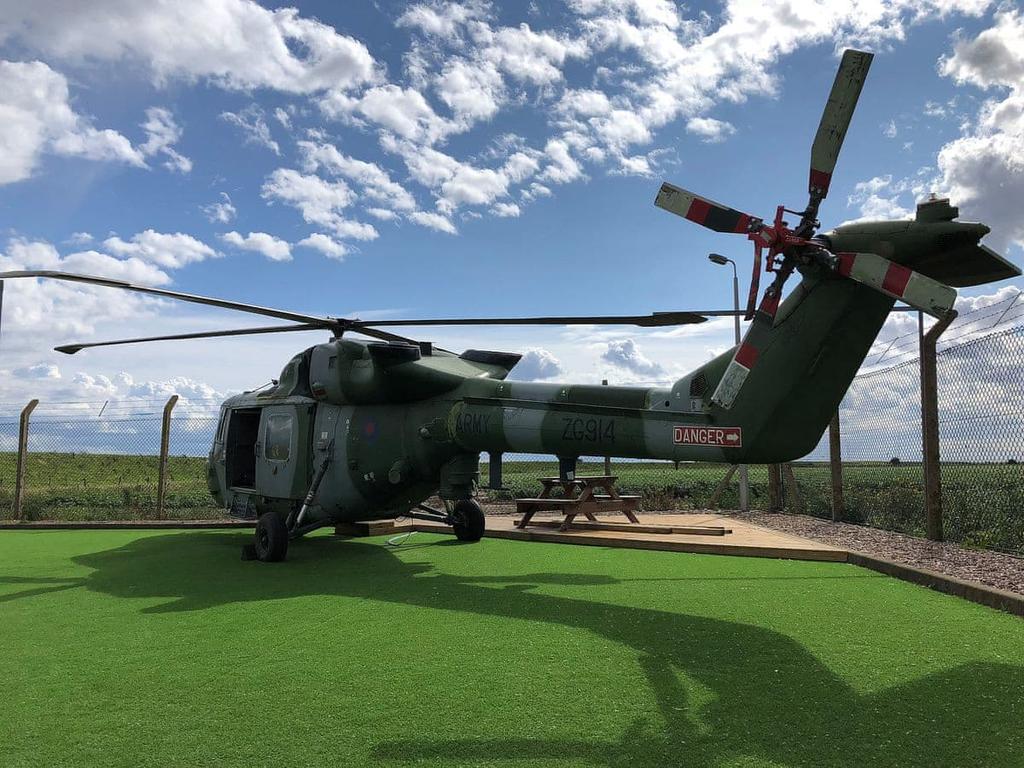 The Bunker
Next we're heading to South West Cornwall for a converted former World War Two bunker that has been turned into luxury UK staycation venue. Wrapped by glorious countryside, you might have trouble finding it at first as it is completely covered in grass, but when you get inside, it's well worth the wait!
Finished to the highest specification, it comes complete with wooden floors, a ouch of rustic character, 40-inch Smart TV and enough room to sleep six guests. There might not be much natural light indoors (it is a bunker after all!) however there is a huge private garden area to enjoy the sunny Cornwall countryside.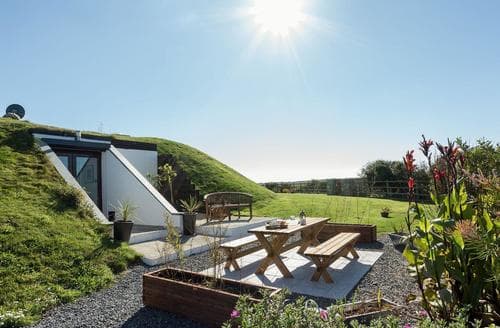 Gulliver the Quirky Camper
We're really turning on the style now with this quirky camper van situated in its own private garden in Kent and complete with a hot tub to help you fully unwind on your staycation. The colourful décor, comfy furnishings and thoughtful details will prepare you for instant relaxation, whilst the cosy seating area is great for evening natters.
There's an open-air shower and a secret hidden TV that you can watch whilst you soak all your cares away in the tub, all in the comfort of your own private, secluded garden area.
AirShip 2
We're off up to the Scottish Highlands now for this romantic and secluded architect-designed pod. Made for two, it's cosily furnished ad fully insulated for the ultimate blissful escape, in the surroundings of a sublime rural backdrop.
Inside you can expect industrial-style fixtures, fittings and furnishings with a gorgeous snug area to relax in, whilst outdoors is your ow patio area – perfect for gazing up at the stars with a drink in hand in the evening.
Melin Mabes
This luxurious and immaculate pod is packed full of cutting-edge fixtures and fittings with a sci-fi twist. You can expect to find space blanket insulated walls and a sliding automatic door, with a Perspex roof that masquerades as a cockpit. Complete with colour-changing lights, zap-worthy ray guns, a light saber and a telescope that's perfect for star searching and moon gazing in the night's sky.
You'll also have your own hot tub outside as well as a fully fitted kitchen area to keep your tummies full, whilst there's a TV with a selection of space-related DVDs included to enjoy too.
Melin Mabes - Spodnic UFO from Nathan Lowe on Vimeo.
Glamping Boatshack
We're taking you way back to the 1940s now with this authentic vessel that has been lovingly converted and perfectly positioned just a short distance away from Cambridge. Overlooking the Fens, you'll set eyes upon the wide open, natural scenery that wraps around you, and no doubt also enjoy the conversion of this stunning vessel that was originally made in 1945.
It comes equipped with oak beams and larch planking for a real historic feel, whilst there's also a spectacular marine-style door, warming wood burning stove and snuggly day benches , whilst the kitchen and bathroom areas are housed in an adjoining space.
Oswestry Church
Perfect for group breaks, Oswestry Church offers a unique slice of combined English and Welsh heritage. Formally a Victorian church, it has been completely transformed into a modern and welcoming three bedroomed staycation venue.
Plenty of its original architectural features remain such as a wodden church door, rustic oak beams and the vaulted ceilings, but the vibrant splashes of colour and modern décor as well as plush furnishings give it a real 21st century feel.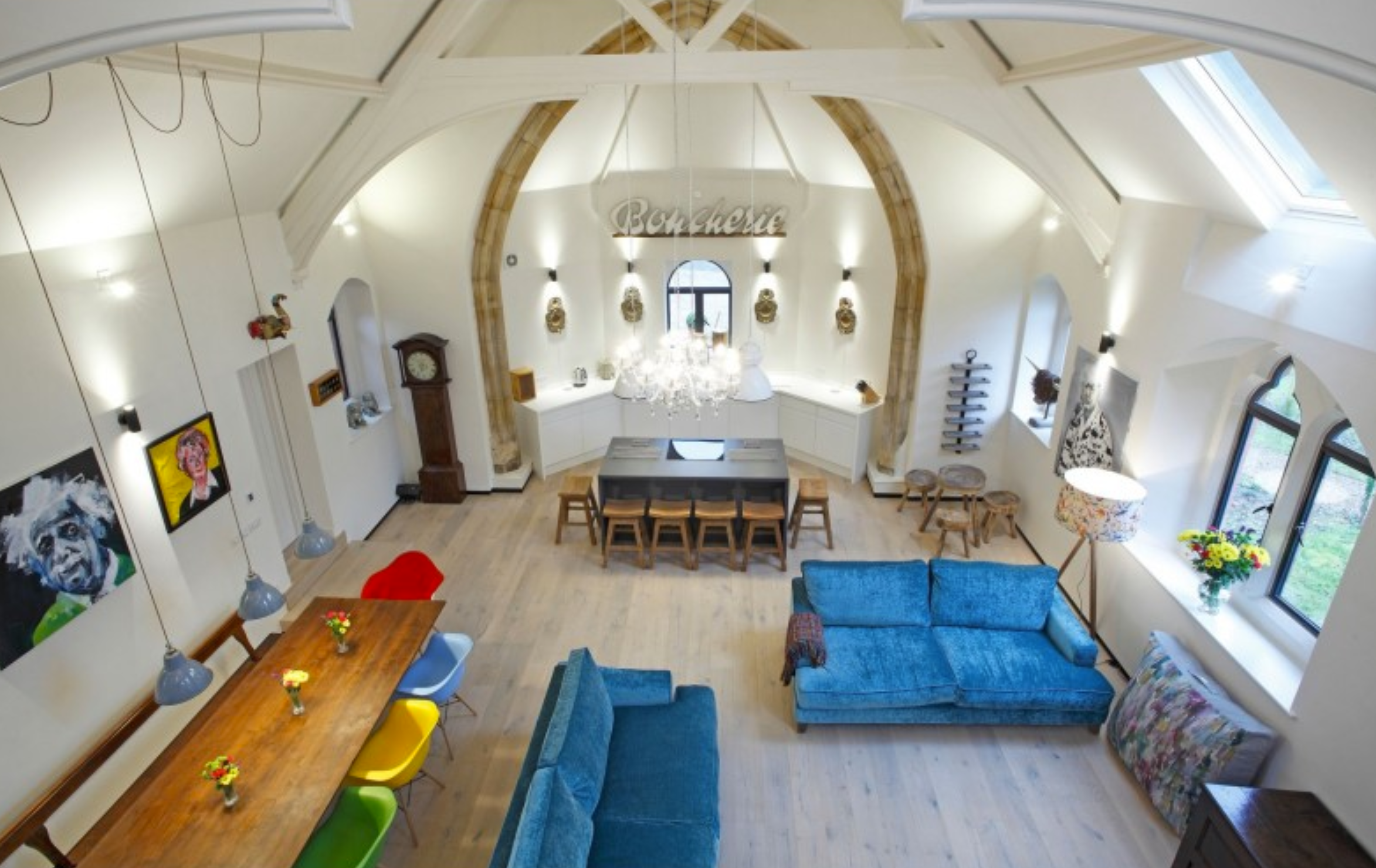 Stable Stays
Animal lovers, this one is for you! Here we have a fun and unique luxury stable setting complete with a beautiful horse for company and located in a friendly farm in the Lake District. There's a single bunk bed and mini kitchen and dining table as well as an en-suite wet room, with your four legged friend for company to the side with a see through room divider.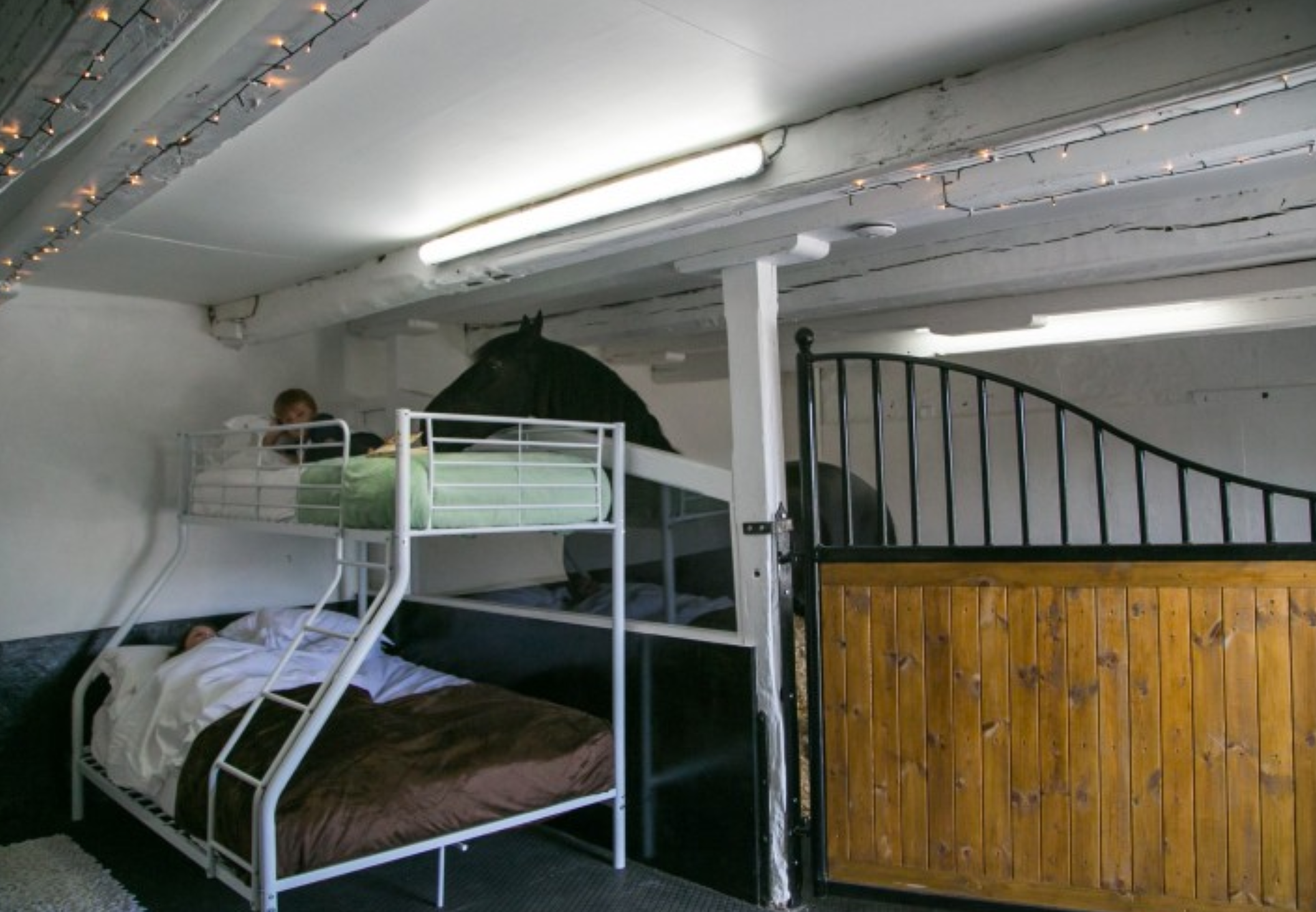 Are you eyeing up a UK break? Which of these would you like to stay at? Tweet @icelollyholiday and let us know! And remember, all of these places are available through Host Unusual, so go check them out and get your next staycation booked!