Are you getting married soon? If you are, the likelihood is that you're also planning your perfect honeymoon. Your first holiday as a married couple is an important one so it's got to be extra special and deciding where to go is part of the fun.
If you're having trouble choosing the destination though, can we recommend somewhere? St Lucia. It's perfect for a honeymoon and here are all the reasons why…
Couple's Resorts
You go on honeymoon to spend time as a couple so there's no better place to do that than at a couple's resort. You won't get any kids, families or groups of friends here, just other loved up couples all enjoying the romantic setting of St Lucia.
The Beaches
There's not a part of St Lucia's coastline that doesn't have a gorgeous beach on it but the following are some of the best for enjoying a romantic honeymoon. You've got Pigeon Island which is sheltered, picturesque and full of golden sand. There's Anse Cochon which is unspoilt and backed by rainforest.
Here you can enjoy snorkelling or get a kayak out on to the calm waters. Anse des Pitons is a spectacular location with silver sand, which is imported from Guyana, and uninterrupted views out to the striking Pitons.
All Inclusive Accommodation
St Lucia is the expert in all inclusive resorts. There won't just be one single buffet to pick at when you're relaxing at the hotel, instead there will be several restaurants and dining options.
Some all inclusive resorts evenhave their own swim up bars and private beaches. Accommodation ranges from cottage style room to innovative villas that are so convenient that you won't want for anything.
Natural Beauty
St Lucia isn't just an island with beautiful beaches, you'll also find lush rainforests, botanical gardens, waterfalls and sulphur springs dotted around. This island is super proud of all the natural beauty on offer, so much so that there are ongoing conservation efforts to keep the land looking exactly as it is.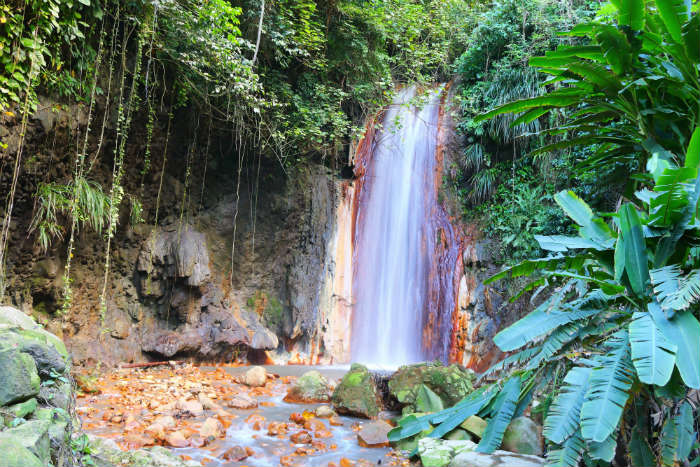 Piton Mountains
The Piton Mountains are a sight for sore eyes in St Lucia. These twin peaks are said to be around 300,000 years old and they tower above Soufriere which is one of the best places to view The Pitons from. Visit with your loved one and admire one of the most beautiful scenes on the island of St Lucia.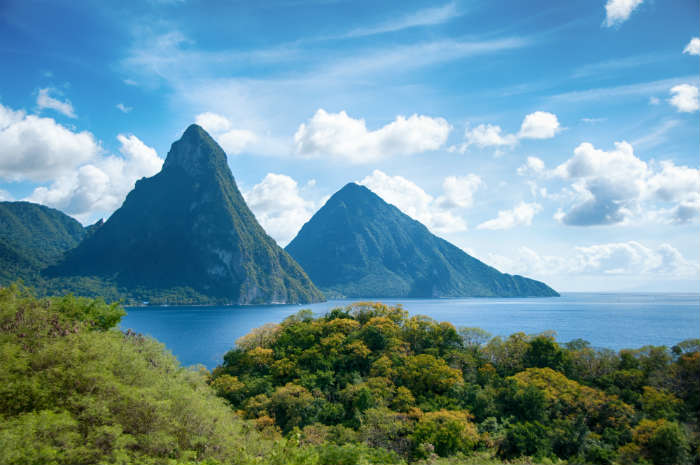 Outdoor Adventure
If you're itching to get out of the all-inclusive resort at some point during your honeymoon, you won't be short of adventures to go on in St Lucia. You can go hiking in the mountains, go on the Enbos Saut waterfall trail, go horse riding, zipline through the trees or enjoy a day in the fishing village of Soufirere.
Romantic Sunsets
What could be more blissful than walking barefoot on the sand with your new husband or wife, basking in the last light of the day and watching the sun set as it drops below the horizon? That sounds amazingly romantic if you ask us and this time of day could easily become the best part of your honeymoon.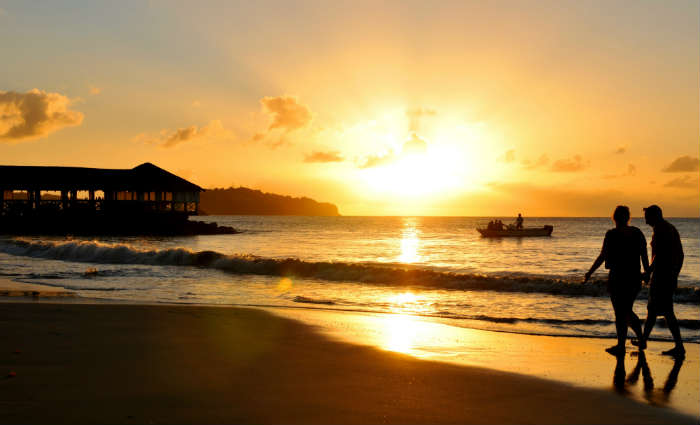 The Warm Weather
Even if you honeymoon in the winter, the weather in St Lucia will be warm. The average sea temperature in 29 degrees Celsius and daytime temperatures rarely drop below 26 degrees celcius meaning you can definitely pack a gorgeous summer wardrobe for your honeymoon, even in winter!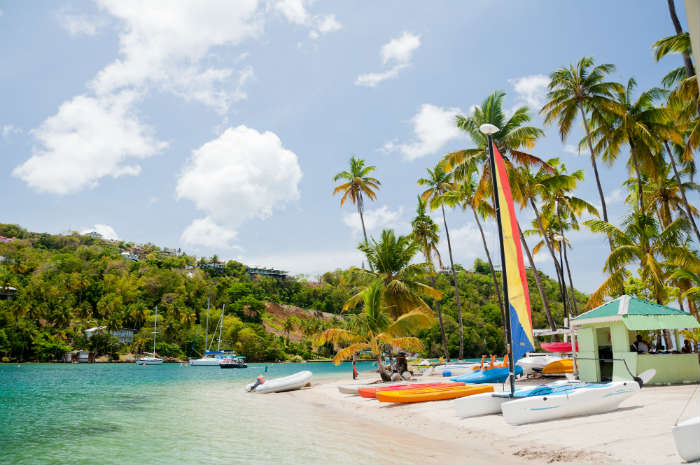 Have you ever honeymooned in St Lucia? Let us know what tips you have by tweeting @icelollyholiday!