Anyone who loves taking photos will say that their favourite form of social media is Instagram, where most of us get our daily dose of enviable locations, tempting meals and beautiful outfits. Instagram is also a great place to gather inspiration and research for your next holiday – just search the hashtag of your destination and you'll discover tons of local spots and secret photo opportunities you won't find out about anywhere else! We asked some top travel bloggers to share their favourite Instagrammable locations…
Positano, Amalfi Coast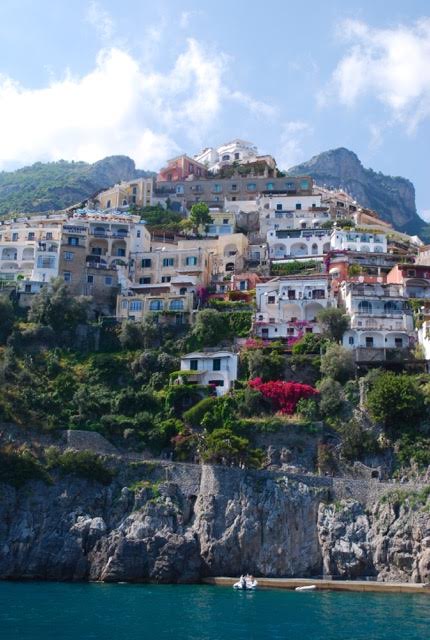 "I took this photo from a hydrofoil ferry during a crossing from Sorrento to Amalfi. The ferry stops off in Positano port so I got to approach the spectacular panorama from the sea (the best way to do it!). The ferry docked for around 15 minutes so we could soak up the iconic views, then it was on to Amalfi."
Jess, The Travelista
Lynn Canyon, North Vancouver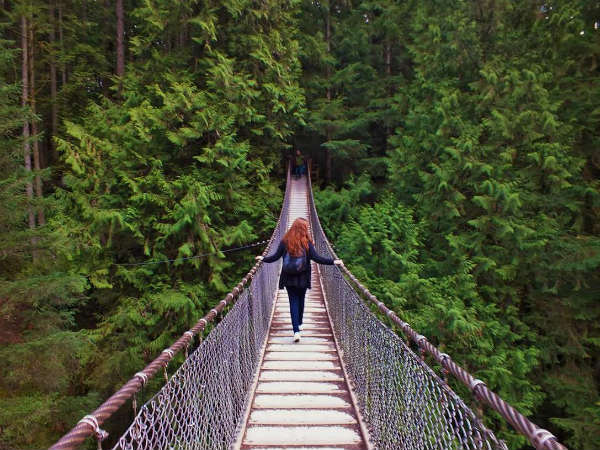 "Canada! We spent 3 months in Canada and travelled across British Columbia and Alberta. Every mile of the drive we found ourselves stopping to take photos of the landscapes and wildlife. This photo was taken in Lynn Canyon in North Vancouver. One of our favourite places to go for a small hike. Canada was actually where we first joined Instagram because we didn't know what to do with all the photos we were getting and the rest is history!"
Poppy, Checking In Travel

Gardens By The Bay, Singapore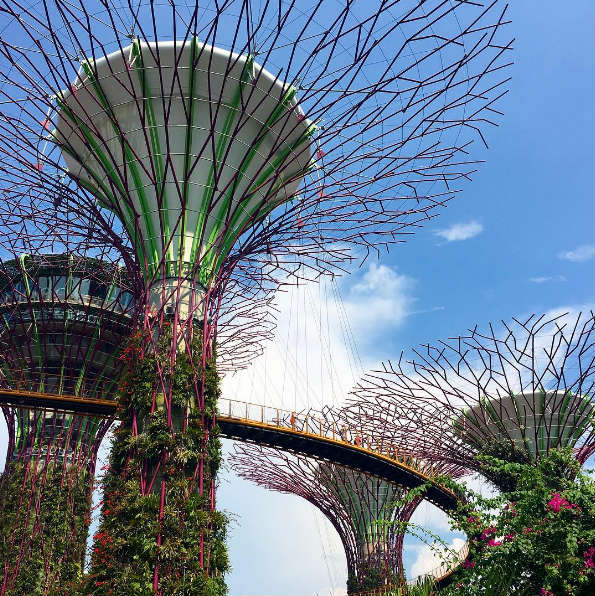 "Gardens by the Bay is far from your typical garden. Located next to Marina Bay Sands (with THAT infinity pool) in Singapore, the highlight is the futuristic Supertree Grove. Take a photo from below or on the skywalk, during the day, dusk or at night during the light show; your options are endless and sure to earn lots of Instagram likes!"
Shandos, Travelnuity

Es Vedra, Ibiza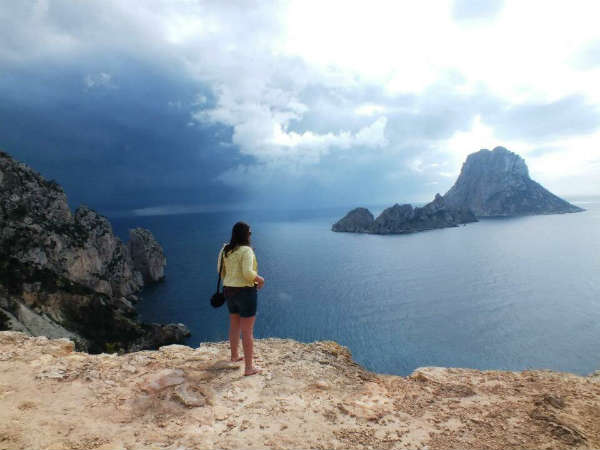 Steph loved the view from Es Vedra so much, she had to visit twice! The light on this famous rock is incredible at any time of day, but the sunsets are particularly popular. Jess advises hiring a car to drive to the location which is 5-10 minutes off the main road, but it's also accessible on foot.
Steph, Travelling Teacher
Eiffel Tower, Paris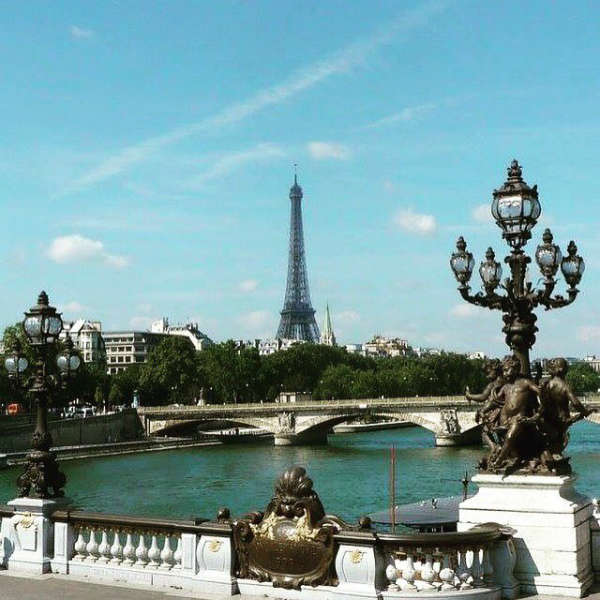 Renna sent us this photo from a trip to Paris, which perfectly captures the intricate detail of the city's bridges, the beautiful blue tones of the Seine, and of course the iconic tower. Renna took this from Pont Alexandre III near the Grand Palais, and we just love how the two lamps frame the Eiffel Tower in the middle!
Renna

Brandenburg Gate, Berlin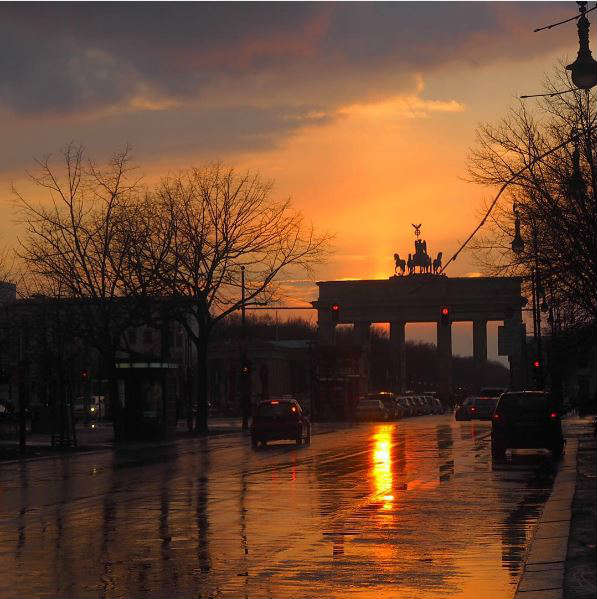 Sam whipped out her iPhone to grab this shot of the Brandenburg Gate at sunset just after the rain had stopped. The way the orange light from the sunset is reflecting onto the wet pavement is just incredible – who minds putting up with a little rain when you can get photos like this?
Sam, Yokomeshi

Vernazza, Cinque Terre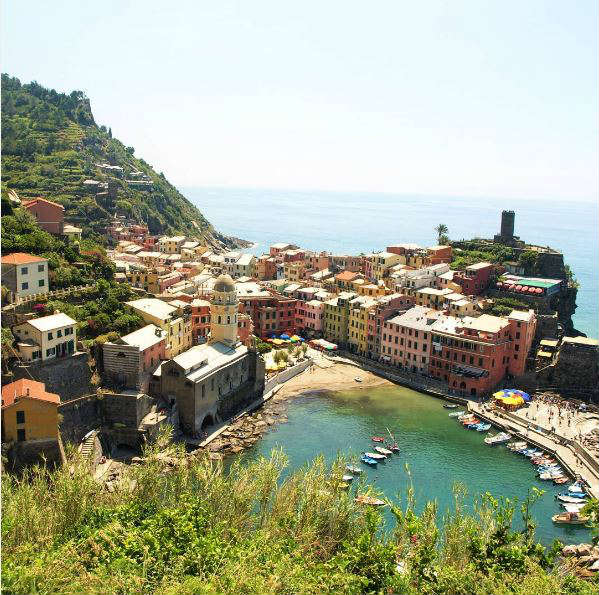 Siobhan recommended the towns of Cinque Terre for spectacular Instagram photos! She took this photo in Vernazza, on the walking path between Vernazza and Monterosso. Hiking between towns is the best way to see the Cinque Terre region, and provides plenty of photo opportunities!
Siobhan, Siobhan Rothwell

Fira, Santorini
Ally took this photo from a Mexican restaurant called Senor Zorba in Fira – she says that even though the food is pretty average the views make it a must-visit! She advises booking a day in advance to make sure you get a cliff side table…just don't look down!
Ally, Digital Diva

Ko Phi Phi, Thailand
Georgina sent us this gorgeous photo from when she was island hopping in Thailand. She managed to find the ultimate photo prop while relaxing on the beach on Ko Phi Phi Island – a fresh juice inside a pineapple! We love the bright colours of this picture – doesn't it just scream summer?
Georgina, Georgina Does

Bellagio, Las Vegas
Anoushka got this glamourous snap outside Las Vegas' Bellagio Hotel during the fountain show! The Bellagio is known as one of the most classy and stylish hotels on the Strip, and throughout the day and nights there are huge water and light shows set to music in the fountains in front of the hotel.
Anoushka, Anoushka Loves

Thank you to all the amazing bloggers who contributed their photos and advice for this post! Click the links on our experts' blog names to check out their Instagram accounts, or comment below to tell us about your favourite Instagrammable destinations!