Twinkling fairy lights, stalls packed with stollen and pretty handcrafted trinkets, the spicy scent of mulled wine floating through the air… yep, it's Christmas markets season!
Whether you're looking for some retail therapy in Krakow or a fairytale getaway to Edinburgh, we've rounded up our favourite festive Christmas markets in Europe for you to explore in 2022.
Dresden, Germany
It's no secret that Germany is home to some of the world's greatest Christmas markets. The oldest, and possibly the most enchanting, is Dresden Striezelmarkt. Originally founded in 1434 as a one-day market, its magic now lasts from the end of November until Christmas Eve. Expect curtains of lights, a glistening Christmas tree, a whole host of handmade trinkets and traditional German food, as well as a 13.7m (45ft) Christmas Pyramid - which is one of the few things not for sale!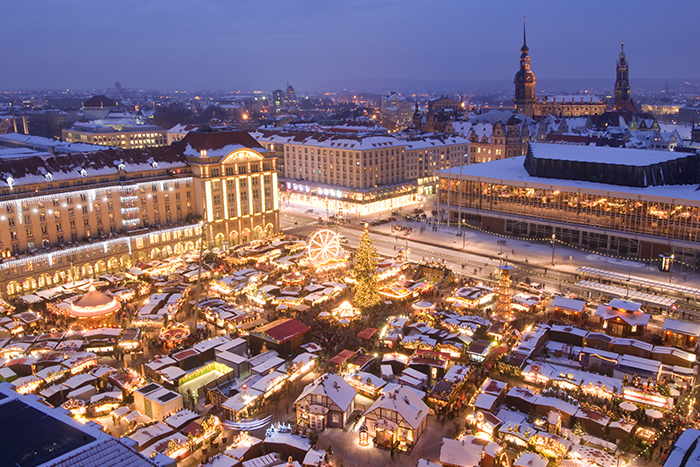 Edinburgh, UK
With show-stopping attractions including the Forth 1 Big Wheel and Santa's Grotto, the Scottish capital is a great place to visit at Christmas. Head to East Princes Street Gardens for a traditional Christmas market featuring a range of rides, attractions and food stalls. You'll find everything from Harry Potter-themed souvenirs to local produce - nothing says Christmas like mulled Irn Bru! Keep the children entertained with a search for Santa's Workshop, slip and slide on the alpine ice rink located on Edinburgh's famous George Street or take a ride on the ferris wheel for mesmerising city centre views.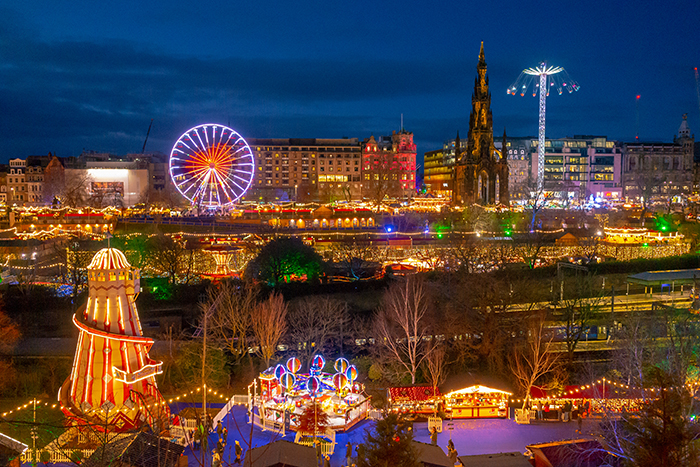 Brussels, Belgium
There's no shortage of Christmas cheer in the stunning Belgian capital. The popular Winter Wonders festival boasts a host of magical activities, from a life-sized manger to a skating rink and of course, stalls packed with handmade decorations and unbeatable Belgium chocolates. Brussels Grand-Place is at the centre of all the action. Considered one of the most beautiful places in the world, the spectacular sound and light shows illuminate the historic buildings. It's outshone only by the light-festooned 20m (65ft) pine tree that takes centre stage in the square.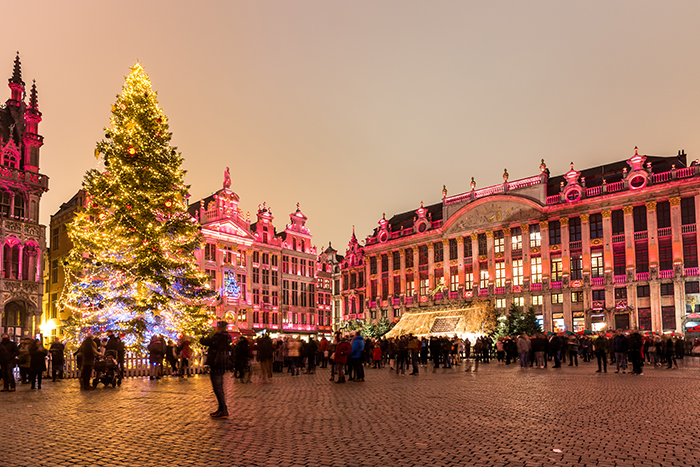 Tallinn, Estonia
Tallinn's Christmas market might be small but its setting makes up for it - it's smack bang in the city's dreamy UNESCO-protected town square. Get stuck in browsing artisan crafts that range from handmade wooden decorations to locally made sheepskin rugs and listen to carols and brass band concerts ringing out from the steps of the Town Hall. Also be sure to try some typical Christmas cuisine such as sour cabbage and black pudding.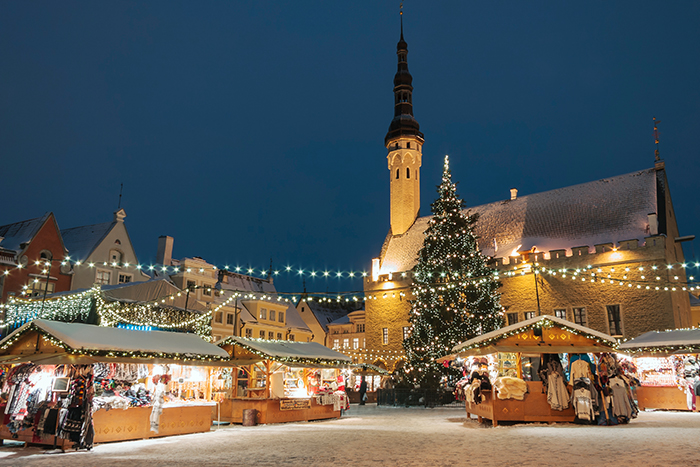 Budapest, Hungary
Stalls bursting with seasonal delicacies spring up across Budapest's historic squares come Christmastime but the largest is in Vörösmarty Square. Wind through streets teeming with Christmas crafts and seek out cinnamon-infused mulled wine and traditional funnel cakes. Expect the streets to be bustling with life from early in the morning until late, with live performances and light shows throughout the day. Don't forget to check out the stunning Christmas tree display at St Stephen's Basilica.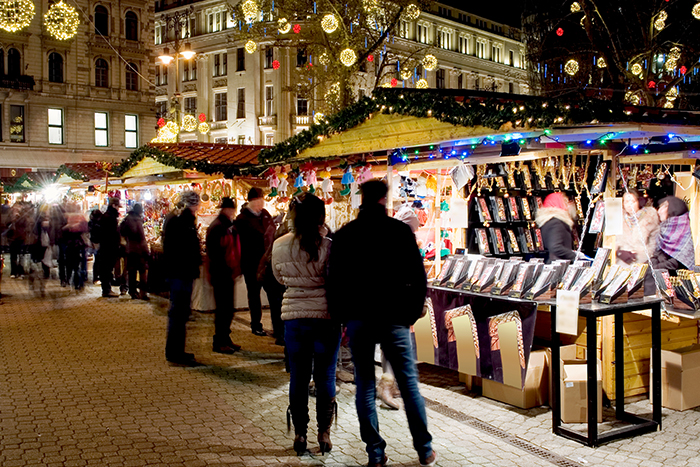 Riga, Latvia
Latvia and Estonia both claim the first decorated Christmas tree, put up some time in the 16th century. We may never know the truth, but what we can be sure of is that Latvia has years of festivities to call upon. You'l find the city's top market at the Doma laukums (Dome Square). Follow the glow of the reindeer illuminations around the stalls, picking up traditional treats such as gingerbread and woollen goods. Speaking of which, don't forget your hat and mittens - snow is all part of the Christmas charm here.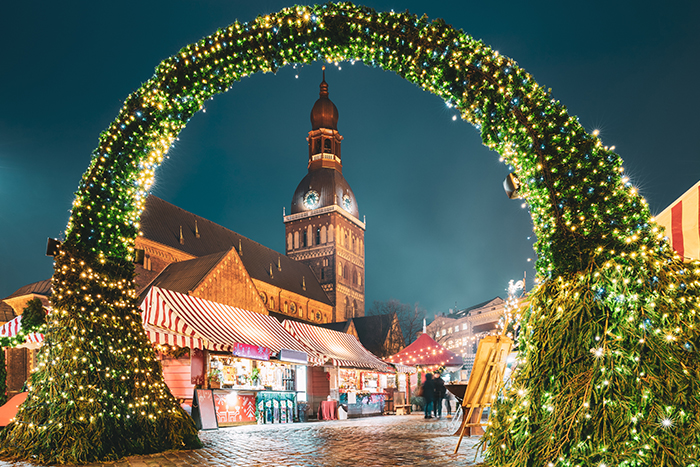 Krakow, Poland
In need of some Christmas spirit? You're sure to find it in Krakow. The city's main square, Rynek Glówny, is filled with wooden stalls selling hand-painted baubles, pottery and folk art. Fellow foodies can indulge in a variety of delicious delicacies, from steaming bowls of goulash to smoked cheese. Don't forget to check out St. Mary's Basilica - the awe-inspiring gothic towers look especially impressive against a wintry backdrop.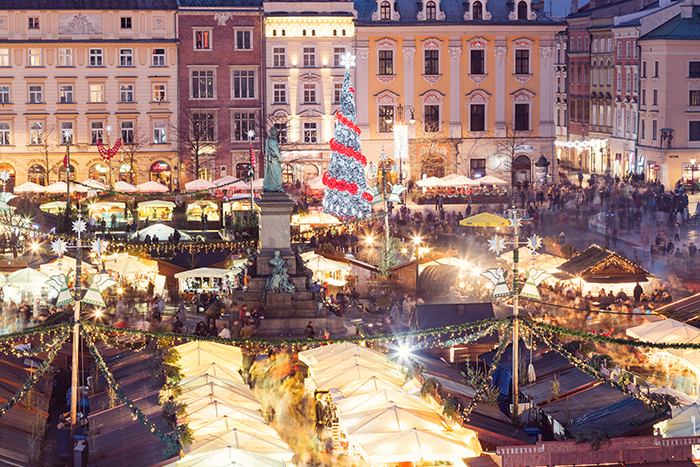 Vienna, Austria
The Austrian capital bursts into life in December as more than 15 Christmas markets take over the city and people flock to get their fill of sweet treats and Glühwein (mulled wine). The main market is located in the City Hall Square and is a winter wonderland of fairy lights, carousels and garlanded wooden chalets. You'll find the usual fare, plus dedicated workshops for children to learn how to make cookies and candles. Enjoy hot roasted chestnuts and listen to advent music in the often snow-dusted square.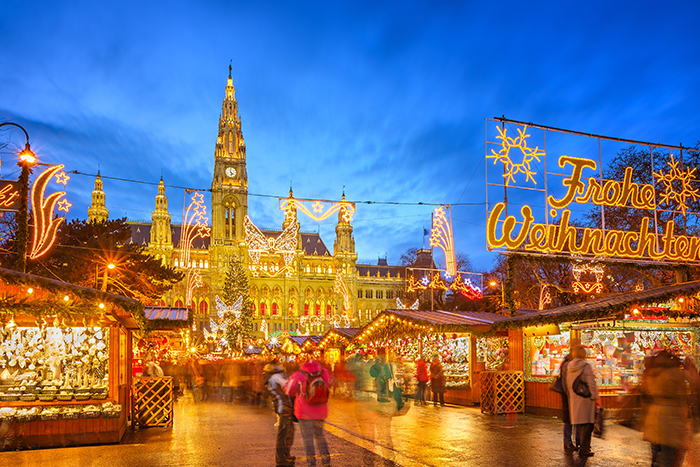 Ljubljana, Slovenia
Situated in Ljubljana's fairytale old town, this festive fair boasts rows of wooden stalls offering tasty Christmas treats and wonderful handmade creations. The Christmas spirit is strong, if not slightly unusual, in the Slovenian capital. As well as Santa-led parades and creative workshops for kids, you can expect the city to be filled with curious Christmas lights shaped like comets, galaxies, strands of DNA and even chromosomes. For a more festive feel, you can marvel at snow sculptures, jolly along to a free music concert held in Novi Square and visit Zvezda Park's huge skating rink.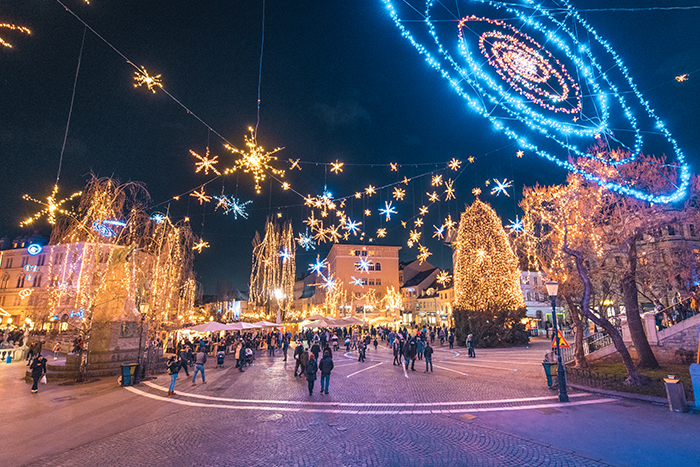 Vilnius, Lithuania
One thing's for certain when visiting Vilnius at Christmas - you're sure to be dazzled! The city centre Christmas tree is a true trendsetter; it's decked out in thousands of bulbs and with a modern, new design every year, its unveiling is an event itself. With 48 stalls, huge 3D displays and copious carnival games in the Bernardinai Gardens, you're bound to be left feeling festive. Experience it all until 6 January.
Where's your favourite festive Christmas market? Tweet us @icelolly.com and let us know!