Twinkling fairy lights, the smell of mulled wine floats through the air and the festive spirit is all around. One way to really get into the Christmas season is to go to a Christmas market but there are so many to choose from, especially in Europe where most major cities host one from the end of November right through to Boxing Day.
There's plenty to choose from so we asked some of our favourite bloggers what they thought of Europe's Christmas markets and here are their unique tips if you're thinking of visiting one this year!
Vienna, Austria
The Christmas markets in Vienna are a real tradition in Austria and even in our modern-day thousands flock to Vienna each Christmas to experience the traditional Austrian "Krippenmarkt". Often snow covers the city once the Christmas markets appear and the locals descend on to the streets.
They meet for Punsch or Glühwein (the local mulled wine), chestnuts and spicy Christmas cookies. The Christmas markets include the traditional Vienna Magic of Advent where the Rathausplatz becomes a shining fairy tale land with 150 stands.There is also the Christmas village on Maria-Theresien-Platz, situated between the Museum of Fine Arts and the Natural History Museum and the Old Viennese Christmas Market on Freyung in the city centre. Top tip: Festive Advent music can be heard on the square from 16:00.
Sophie Davis | Sophie's Suitcase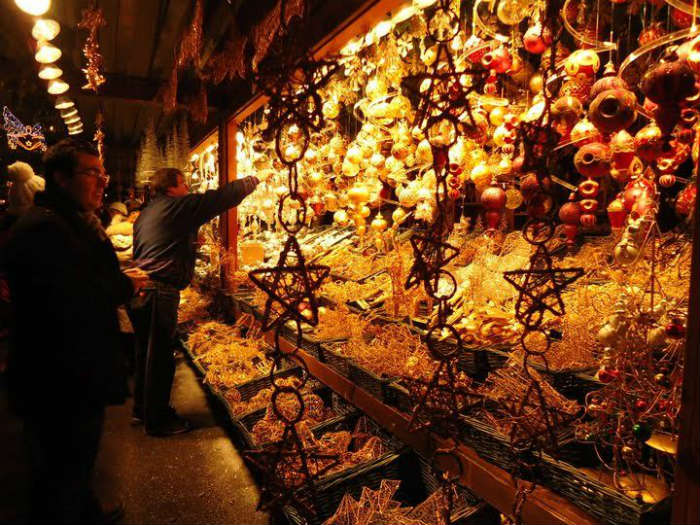 The Christmas Markets in Vienna have a long history and tradition, dating back hundreds of years. They are truly one of my favorite things about Vienna and something I looked forward to every year when I was living there. In mid November, markets start popping up all over Vienna and there are many markets to choose from. My favourite, and the biggest in the city, is the one in front of City Hall (take the underground line U2 to Rathaus).
There are two things you must try for the experience to be complete - Glühwein and Weihnachtspunsch (Christmas Punsch). Punsch is made of; a combination of tea, spices, sugar and rum. You can get different flavours such as orange or forest berries and if you want an non-alcoholic beverage you can try Kinderpunsch (Children's Punch).
Glühwein; is hot red wine with spices such as orange and cinnamon. When you buy these drinks you will pay a deposit for the cup which will be returned when the cup is brought back. Usually the cups are quite unique with Christmas pictures and often the name of the market, so you can also keep the cup as a nice souvenir.

Alannah McEwan

Vilnius, Lithuania
When people first think about Christmas Markets in Europe they immediately picture the gorgeous German markets and even London's Winter Wonderland or Paris' display on the Champs-Elysees. However, some of the most beautiful markets I've seen have been in Vilnius, Lithuania.
Although everyone is covered in jackets, scarves, hats, and gloves, November and December are some of the best months to travel to this cold capital. The Christmas Market at the heart of the capital boasts quaint, white, panelled booths with locals selling everything from mulled wine, local art and handmade chocolates. This underrated market is filled with the friendliest Lithuanians which makes it even more special.
Rachel Wortmann
Dusseldorf, Germany
From late November, the sparkle of Christmas decorations can be seen across Dusseldorf and the aromas of simmering Glühwein, cinnamon and cloves, are hard to miss. Stalls are scattered throughout the city's old town which is centred on Marktplatz, selling traditional handcrafted goods such as Nutcracker figurines, windmills and individual Nativity pieces to full sets.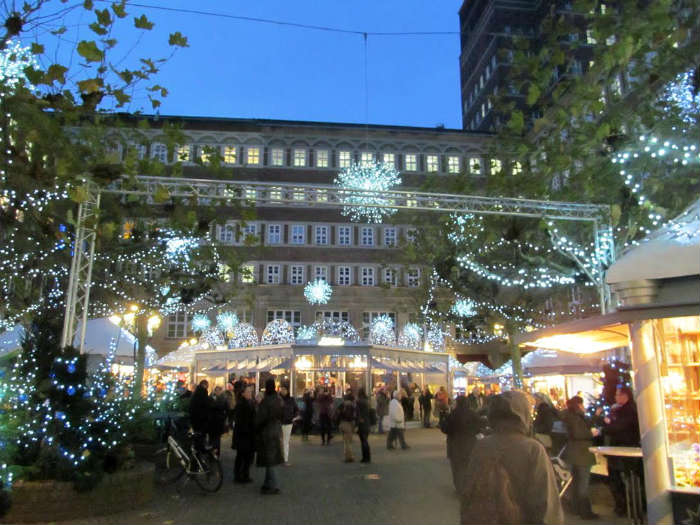 Also dotted around are alternative markets such as the Little Angels Market in Heinrich-Heine-Platz. Offering a unique Art-Nouveau setting; the Little Stars Market in Stadtbrückchen-Platz, a hidden gem, where sparkling stars glisten on the walls of the sky-blue stalls and the canopy above is strewn with a number of giant crystals.
Perhaps the most lively of all, Flingerstrasse, where Glühwein is served from the now famous windmill stall. All in all, guaranteed to put a smile on the faces of all who venture there.
Victoria Dovaston | The Girl On The Move
Budapest, Hungary
One of the most wonderful Christmas markets in Europe are in Budapest, at Vörösmarty Square in the centre of the city. While many of the stalls at Christmas markets located around Europe sell similar mass-produced items, at these Christmas markets, there is a special jury of folk art experts that select and approve all of the stalls.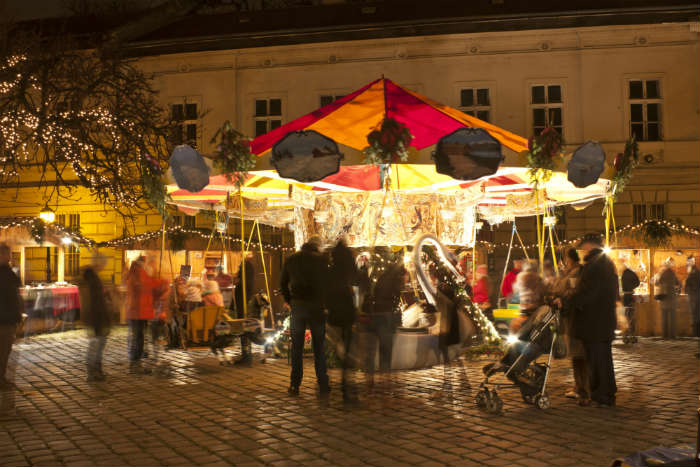 This means that you can purchase many delightful, unique gifts that have all been locally handcrafted in Hungary. Choose from beautifully hand-made notebooks, gorgeous leather work and a wonderful array of ceramic and glass ornaments that had me regretting not having more room in my suitcase for delicate souvenirs!
Don't miss out on buying a kürtős kalács, a pastry native to Hungary, which is also known as "chimney cake", to nibble on while wandering. If you're after something more substantial, there's also plenty of delicious Hungarian food including lángos (deep fried flat bread) and goulash served in hollowed-out bread.
Shandos Cleaver | Travelnuity
Brussels, Belgium
We visited Brussels last December for the Christmas Markets and spent our days eating, shopping, sightseeing, eating, drinking, ice skating and eating! Brussels is a beautiful city and the Christmas markets are spread throughout the city, all within walking distance!
Each year a different city donates an enormous Christmas tree to Brussels which is then placed in the Grand Place which is the central city square and this year it was from Riga!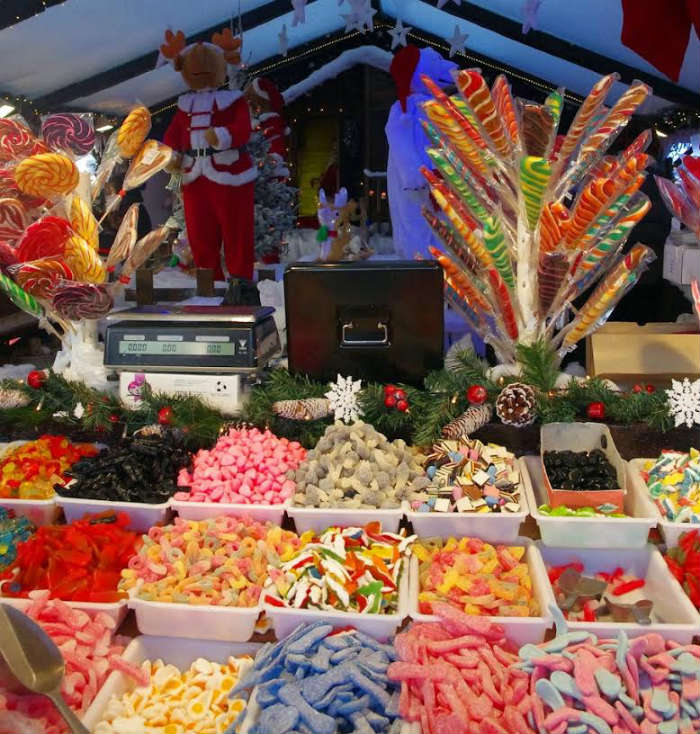 There is plenty to do for families, couples, even solo travellers and as long as you enjoy good food and Christmas - you will love it! When they say that Belgians are some of the best chocolatiers in the world, they aren't lying! We love Christmas and the Brussels Christmas markets were incredible and well worth a trip (especially when it is an easy Eurorail ride away from London)!
Simone Lye | The Aussie Flashpacker
Will you be visiting one of Europe's Christmas markets this year?