So, you've booked to go to that dream destination. Maybe you're heading to Bali, Los Angeles, Thailand or Hong Kong. Wherever you're going, you're definitely going to have a holiday to remember. There's just one small problem – the 12 hour flight that's going to take you from the UK to the destination of your dreams. 12 hours? That's longer than a normal working day. It can seem a daunting task but there are ways to make this long haul journey more comfortable and potentially quite enjoyable. Here's how to survive a 12 hour flight – we have faith in you, you can do this!
Positive Mental Attitude
A phrase that's usually associated with school exams, a Positive Mental Attitude – or PMA – can really help when building yourself up for a 12 hour flight. Just think, when else do you get the chance to read your favourite book or watch a bunch of movies without any distractions? It's also the perfect time to try out that digital detox you've been wanting to do for so long. Yes, some flights do now have free wi-fi but take advantage of the ones that don't and enjoy a Facebook and Twitter-free environment for 12 hours. Also, what can help a PMA more than the thought of that beautiful destination at the end of the flight?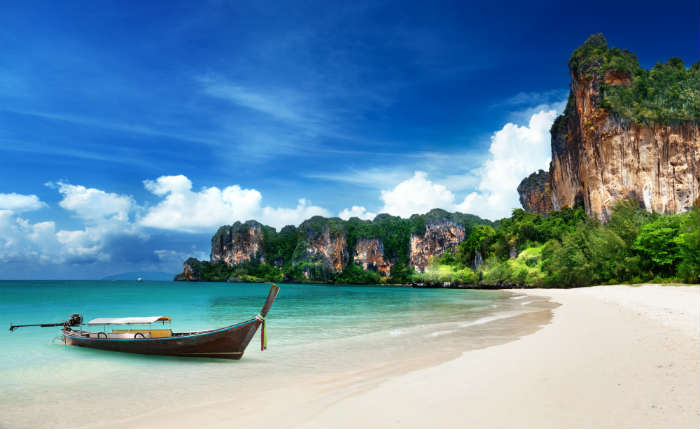 Enjoy The On Board Entertainment
Most long-haul carriers will provide some sort of on-board entertainment. Right in front of you will be a screen with some of the latest blockbusters available for your viewing – just watching a couple of these in between meals will pass around 4 hours. Alternatively, make a playlist from the selection of music that's available to you or listen to that new album you've had your eye on for a while. There are also usually plenty of games and quizzes available which are great if you have kids with you on the long journey. You can usually check out the entertainment beforehand on your airline's website to find out what options will be available to you during your flight!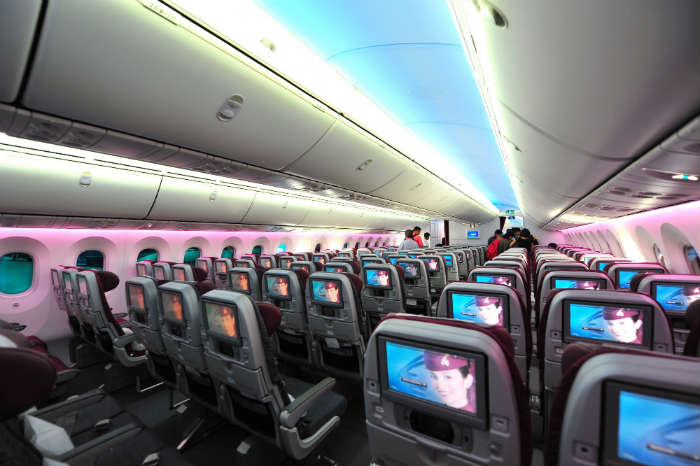 Grab Sleep When You Can
A 12 hour, overnight flight might seem like the perfect opportunity to grab some much needed sleep before reaching your end destination. However, it's highly unlikely that a solid sleep is going to be possible. It's also not going to be possible to sleep when you want to. The key to combating any over tiredness is to grab sleep whenever you can. You might be halfway through a brilliant film but if you feel your eyes drooping, don't fight it. Go with the flow and your body will thank you even if you only manage to grab a small two hour snooze.

Keep Hydrated
You might want to avoid the airplane toilet at all costs but avoiding water to do so is not a good idea. Keeping hydrated is one of the main ways to survive a 12 hour flight. Buy a big bottle of water before hopping on board or ask the air attendants for extra water with your meals. You reduced your chances of getting a headache and you'll definitely feel more fresh when you get off your flight – even if you do have to make the journey to the aeroplane toilet a couple of extra times.

Get Comfy
Wearing jeans and an uncomfortable jumper for the length of a 12 hour flight is never going to be the best way to experience what could be a pleasant journey. As soon as you get on board, or even before if you're super organised, change into some super comfy clothes. Leggings or light jogging bottoms paired with a hoodie or cardigan and scarf are a great way to go. A nice warm pair of socks are a good idea too as flights can get a bit chilly. That way, when you're ready to settle down after your first in-flight meal you can grab a blanket, get cosy and chill out for a few hours without having to haul a change of clothes to the bathroom.

Eat Healthy
Even on long haul flight with great airlines, in-flight food can be a bit underwhelming. You usually get the choice of two different meals which are often served with a bread roll, some sort of yoghurt, fruit, salad and a dessert. Now, it's great getting free food on your flight but be aware that foods like bread, rice and eggs can end up making you feel bloated and uncomfortable. Not pleasant on a 12 hour flight or after you land. To combat this, eating lighter foods is an option – go for a fish or vegetable based meal option if there is one. Alternatively, take a selection of snacks on board with you such as a bag of nuts. Even taking your favourite smoothie on board can help and it will keep you hydrated at the same time!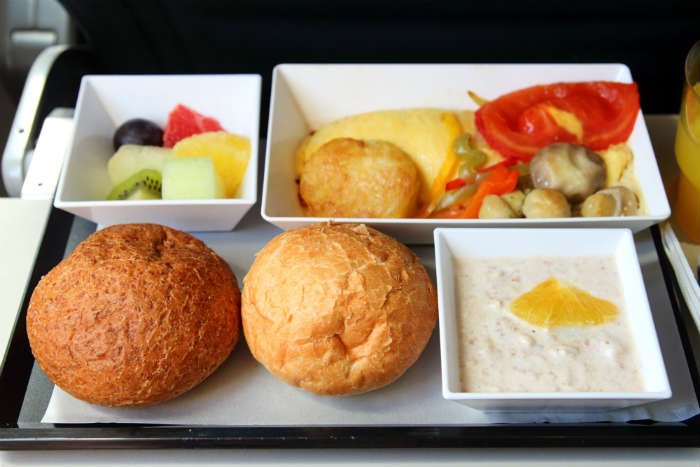 Keep To Your Regular Routine
It might be tempting to shun your regular routine on a long flight but, especially if you're on a red-eye flight, keeping your regular routine will make surviving your 12 hour flight so much more pleasant. Brush your teeth after your first meal and before the plane starts making its descent. Take of any makeup or wash your face – your skin will thank you after a dehydrating journey. Change into your pyjamas as if you were going to bed for the evening - all of these little things will help you feel more relaxed and enjoy the flight.

Do you have any more tips on how to survive a 12 hour flight? Is flying long haul even worth it to get to that dream destination. We'd love to know your thoughts so leave a comment below or share with your friends!