Greece holidays provide some of the most popular destinations for British holidaymakers, with historic mainland cities and features and some 227 inhabited islands. Most of which are beyond dreamy, and that's exactly why tourists keep flocking back to this beautiful area of the world year upon year.
The Greek Ministry of Tourism has however recently introduced a new Overnight Stay Tax, so read on if you're planning to take a trip there soon.
What is the Overnight Stay Tax?
It's a source of income that aims to increase the State's revenue in the current fiscal adjustment programme.
Why has it been introduced?
It is a tax imposed by the Greek government which is specifically aimed at tourists and has to be paid when holidaymakers visit their accommodation.
When did it come into effect?
From 1st January 2018, which means any planned or already-booked cheap holidays to Greece from this point will incur the Overnight Stay Tax.
How much is it?
The actual amount differs dependent on the official rating of your accommodation, as determined by the local Tourist Board classification, and ranges between 0.50 – 4 euros per night. See below: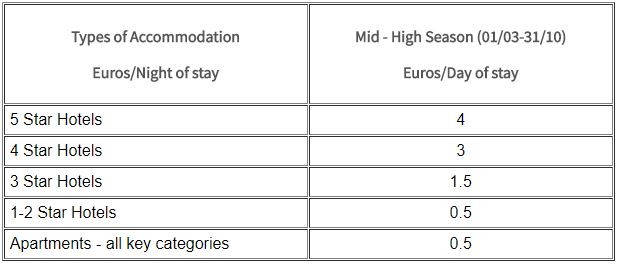 When and how do I pay?
Visitors will be asked to pay the tax upon check-in at their accommodation. Payments can be made by cash or card.
How long has the tax been enforced for?
No indication of how long it will be required for has been announced, so tourists should expect to pay the tax until further notice.
Do you have any other questions relating to Greece's new Overnight Stay Tax? Comment below and our team will advise as best we can.