Holidays should be relaxing and worry-free for everyone, whatever your travel needs. icelolly.com have partnered with award-winning accessible travel specialist, Enable Holidays to offer a wide range of holidays for the disabled or customers with limited mobility.
Their choice of disabled holidays cover destinations worldwide, giving you complete freedom to choose your perfect holiday. Enable Holidays offer sun, city and mini-break holidays to a range of European destinations, as well as cruise voyages. You can find extra special Disney stays and safari adventures, complete with all the extras you need to facilitate your stay.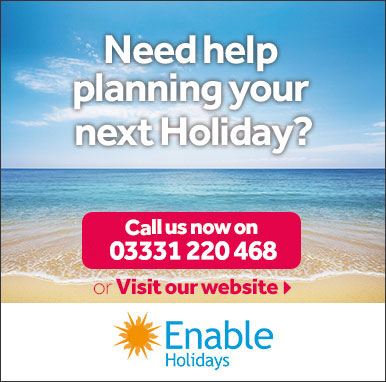 Who is Enable Holidays for?
Enable Holidays cater to a wide range of disabilities and mobility needs, both temporary and permanent. Their accessible holidays are specially designed to ensure that travellers with special requirements can enjoy their holiday with ease. Their staff are experts in arranging holidays for those with accessibility needs, and can offer valuable information about the best resorts and accommodation options for you.
Enable Holidays can provide support for a wide range of situations including muscle, joint and neurological conditions, physical and non-physical disabilities and medical conditions that impair daily functioning and mobility. They don't just cater for those with permanent mobility needs – travellers recovering from surgery can also seek support and guidance on how to arrange a holiday that meets their needs.
What can I expect from my accessible holiday?
You can rest assured in the knowledge that your accessible holiday will provide you with everything you need to enjoy a stress-free holiday! Enable Holidays offer a wide range of services and accommodation facilities to meet your specific requirements.
Single level accommodation is provided for easy access, and accommodation with wheelchair access can also be booked. Level access showers offer additional support in the bathrooms, and mobility equipment is generally fitted as standard in the property or can be hired where not fitted. This can include shower chairs, toilet raisers, hoists, electric beds and wheelchairs/scooters. If you require a helping hand, care support can be arranged in many destinations to assist with anything from bathing to medical assistance.
10 great reasons for choosing Enable Holidays for your next accessible holiday
Tailor-made holiday planning to meet specific requirements
Guaranteed adapted rooms upon confirmation of booking
Each property features a wheel-in shower with room to manoeuvre a wheelchair
Vast majority of properties have been personally audited by the Enable team
Assistance can be arranged at airports and on airlines
In-resort agents are available in most destinations
Mobility aids and specialist equipment can be pre-booked
Specialist nursing care can be provided in a selection of resorts, if required
All prices include flights and adapted taxi transfers between the destination airport and accommodation
Book with confidence. Enable Holidays is a member of ABTA (W7335) and ATOL (6261) for your financial protection and peace of mind