Your stag do is a crucial part of saying goodbye to your single life, so it's crucial that you do it properly! While a night out in your local town used to be the standard, a short trip to Amsterdam or Benidorm is now a much more appealing option, with bargain prices and free stag places on offer from package holiday companies.
Purple Travel are the go-to party planners for cheap stag weekends abroad, offering over 20 years of experience and a range of hotels and activities in the UK and abroad to ensure your stag do holiday is a memorable one.
Where Should You Book Cheap Stag Weekends?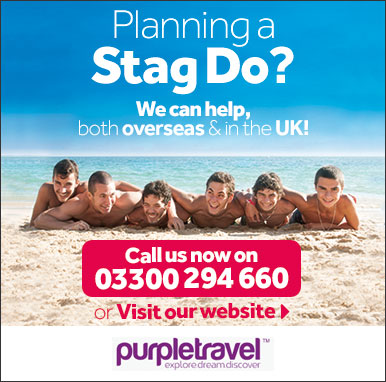 The first important question to ask when you're booking stag do holidays is, should you stay at home or go abroad? A UK stag break means you don't have to worry about anyone forgetting their passport and there's no waiting around at an airport, but opting for a stag weekend abroad gives you a complete change of scene and lets you take a short break from life back home. It can even be the cheaper option, with bargain flights available to popular European cities often for less than the cost of a train ticket.
Whatever kind of short break you're looking for, the stag weekend experts at Purple Travel can help you plan a weekend to remember. Browse their site to find out about all the destinations they offer, and the awesome activities available in each one!
How to Book Cheap Stag Dos Abroad
Plan in advance: It's always stressful organising a holiday for a large group of people, so don't make it any harder than it has to be. Set a date way in advance and get everything booked - if you leave it until the last minute you could struggle to find availability for everything you want to do.
Book as a group: For stag do holidays, always appoint the best man as the organiser and make him responsible for booking the package for everyone - this way everyone just has to transfer money to the same person and all the bookings can be managed by them. When booking as a group you may even be able to get a free stag place or a group booking discount.
Don't pay for hold luggage: For stag weekends abroad, your cabin luggage allowance with your flight should be more than enough to pack clothes and toiletries for a quick weekend away. If you pay for a suitcase it could add a lot onto your holiday cost, especially with a cheap airline, and you just don't need it.
When planning a stag weekend away, city breaks that specialise in good, cheap beer and all-night clubs are the go-to choice of destination. Prague and Amsterdam are the longstanding favourites, but German cities like Berlin and are also popular, and the cheaper Eastern European cities such as Krakow and Budapest are gaining popularity.
Of course you and your mates might prefer a week by the beach, where you can recover from the previous night's drinking on a sunbed rather than in a darkened hotel room. For stag dos abroad, consider somewhere cheap and cheerful like Benidorm or Magaluf for a break in the sun with a great nightlife. Wherever you choose to spend your stag weekend, Purple Travel can help you plan the trip of a lifetime!