Forget a night out in your local pub; your send-off into married life deserves something a little more special! A hen weekend is the perfect chance to let your hair down and enjoy some quality time with your best friends before you tie the knot, so start planning your hen party holiday today. Our hen and stag partner Purple Travel are experts at planning memorable hen weekends, making them the ideal provider to arrange all your fun for you!
Where Should You Book Cheap Hen Weekend Deals?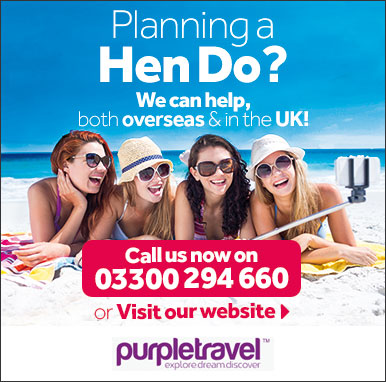 This is the first big question when planning a hen weekend – at home or abroad? A girls' weekend in the bride's home town or a major UK city is the traditional choice and it has its benefits; nobody needs to worry about forgetting their passport and you can choose from a wide range of activities including spa days, cocktail masterclasses and burlesque parties. You could also surprise the group with something a little more unexpected like paintballing, life drawing or an escape room.
However, wouldn't all these activities feel even better on a glamorous overseas break? With short-haul flights to Europe becoming cheaper, going abroad isn't the expensive blowout it once was. In fact, you could find yourselves paying the same amount, or even less, than you would on a UK break! A break abroad also gives you an excuse to disconnect from life at home and focus on celebrating the upcoming nuptials with your best friends. Whatever you're imagining for your hen weekend, Purple Travel can help you make it happen.
How to Book a Cheap Hen Holiday
Plan in advance: On a hen weekend there are likely to be at least 10 guests, so you can't afford to leave arrangements until the last minute. Establish who's coming, find a date when everyone's available, and book as soon as you can. Having to pay at least a deposit will push guests to fully commit, and makes them less likely to drop out later on.
Bag a free spot for the hen: The hen shouldn't have to pay for her own party! It's not unusual for specialist hen and stag packages to offer a free place for the hen, which means the bride gets a free flight + hotel and the rest of the guests don't have to worry about covering her cost. Remember to enquire when you book.
Get food sorted: Eating out in a large group can be expensive and extremely stressful, so make sure you have a plan for meals! If you're on a beach holiday book all inclusive or self catering to allow flexibility, while if you're on a city break go for B&B and make meal reservations in advance.
Popular Hen Weekend Destinations
Where you go for your hen weekend depends on what kind of break you want. If you're looking for a party weekend by the beach, Spain is a popular choice – splash out in Valencia, go cheap and cheerful in Benidorm, or hit the clubs in Magaluf. If you want a sun holiday that's more low-key, try the sunny island of Tenerife or the classy beach clubs of Marbella.
Your other main option is a city break, with a fun mix of culture and cocktails! Prague and Amsterdam are two of Europe's biggest nightlife hubs, or you can stay local in London, Leeds or Newcastle. If your days of hard partying are behind you, consider Barcelona or Madrid for delicious food, beautiful sights and great shopping.
Whatever you're looking for, Purple Travel can help you organise your dream hen party. With a huge range of UK and overseas hotels and more than 100 activity ideas to offer, their travel experts are your one-stop shop for all your questions and booking needs.