Guest post, by Jasmine Buckley
Holidaymakers, like me, are seeking a new kind of holiday, one filled with nostalgic charm without compromising on modern luxuries. In this day in age, is that really too much to ask?
I was completely taken with San Francisco when I visited last year and couldn't quite fathom how the city, home to corporate giants Facebook & Twitter, provides the perfect backdrop to classic films such as Hitchcock's Vertigo. With quaint trams and iconic architecture, including the infamous Golden Gate Bridge, San Francisco is the perfect example of old vs new.
When searching recently for a city break, I was instantly drawn to Lisbon in Portugal. Why? Well, it could be said that the city made me reminiscent of all the things I love about San Francisco. Let me explain...
Trams
San Francisco is not the only place to still use old-fashioned cable cars.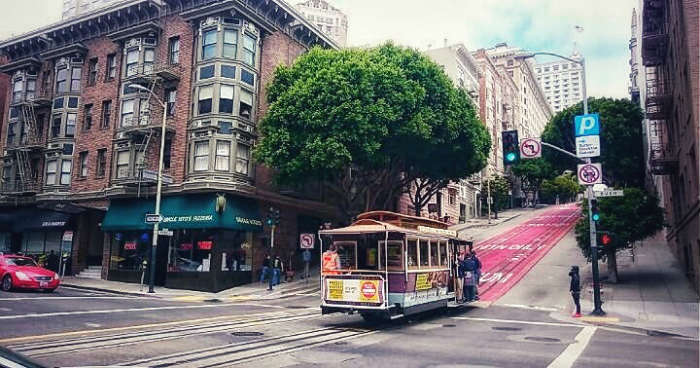 San Francisco
They may look a little different, though these trams take you back to yesteryear and you can't help but stare at them as you let your mind wander to how they looked without all the other vehicles of the modern world.
One of the best places to capture your iconic tram pictures in Lisbon is at the Elevador Da Bica located on Rua Da Bica De Duarte Belo.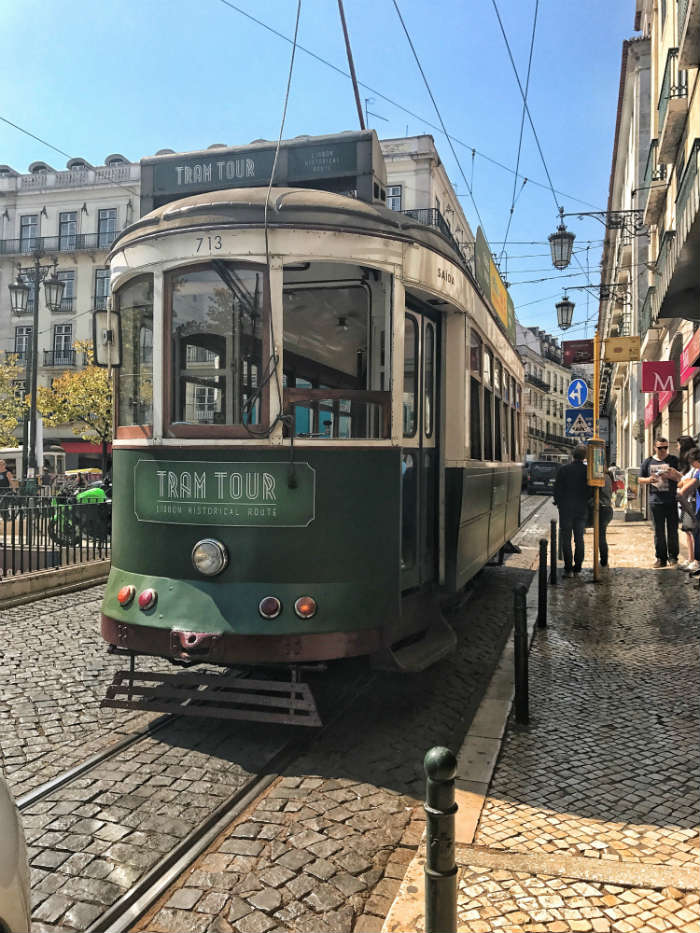 Lisbon
Bridge
Take a look at the picture below: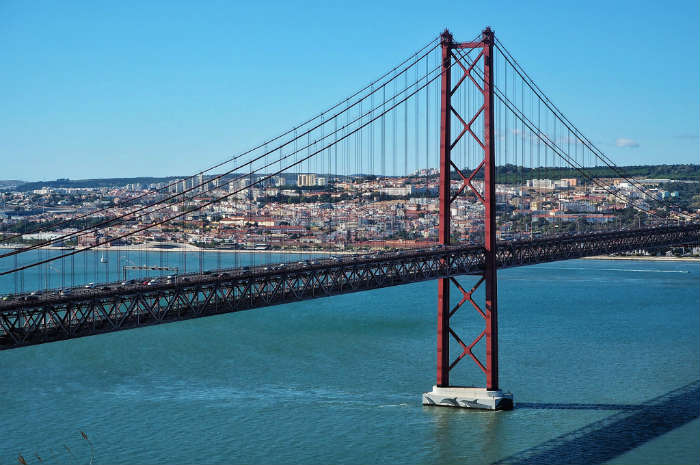 Lisbon
You would be forgiven for thinking the above image is none other than the iconic Golden Gate Bridge, but you'd be wrong.
The bridge is named 25 De Abril and due to its similar structure and red colouring is often compared to the Golden Gate Bridge. Coincidentally, it was built by the American Bridge Company which constructed the San Francisco Oakland Bay Bridge, not the Golden Gate.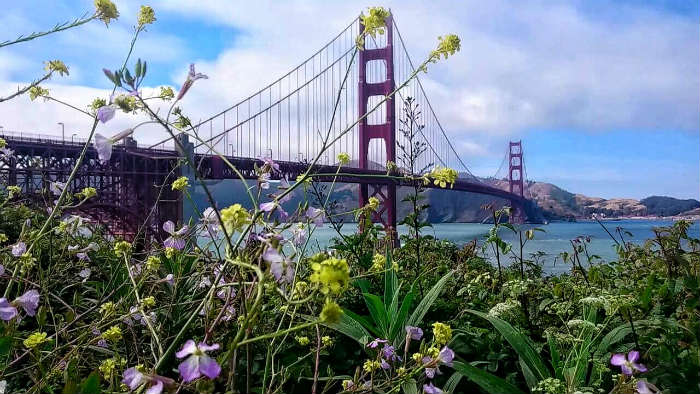 San Francisco
The best views can be captured from the Cristo-Rei and this viewing point provides a very similar viewing point to the Battery Spencer viewing point in San Francisco.
Architecture
It's not just the bridge that has a comparison to San Francisco. A keen eye will note the quirkiness of the buildings located in both these cities. San Francisco is famous for its painted ladies, brightly coloured Victorian houses with opulent gilded bay windows.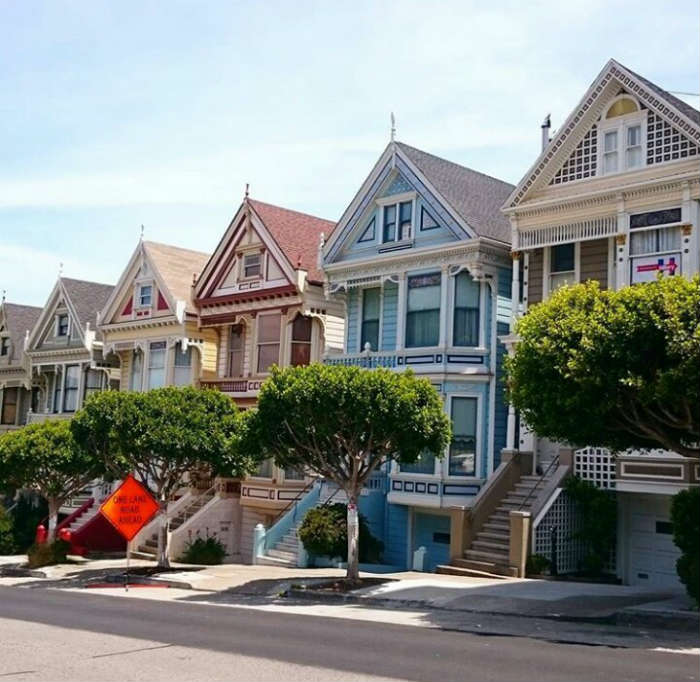 San Francisco
Visiting Lisbon, you can't help but be drawn to the beautiful mosaic tiles and pink buildings that give your pictures the perfect Instagram background.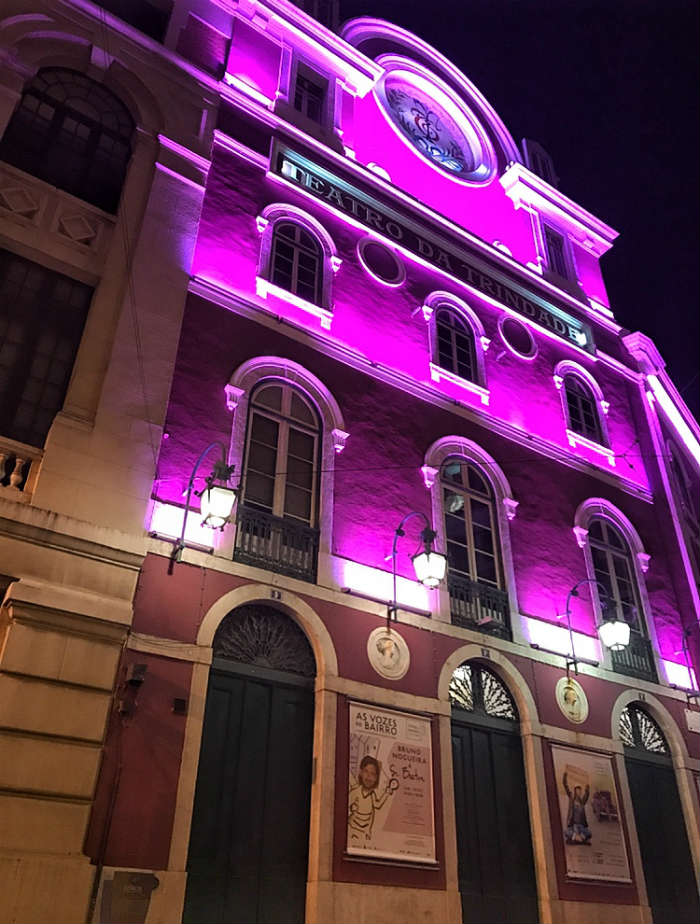 Lisbon
Talking about tiles, visiting the mosaic Moraga Steps in San Francisco is a must. Beautifully created by over 300 local volunteers, the Moraga Steps provides the perfect snapshot for your holiday album.
Weather
If you're thinking the weather will be nicer in Californian city San Francisco, you obviously haven't seen the fog. Those of you who have visited San Francisco will know to visit Sausalito on the foggier days!
San Francisco is known for its fog, caused by pressure from the hot inland air meeting the cold ocean air. Did you know the fog in San Francisco is affectionately known as Karl?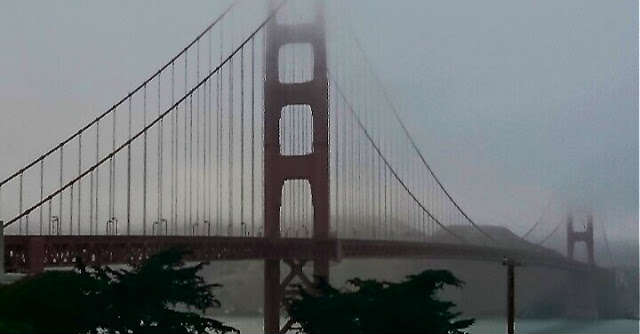 San Francisco
Similarly, the green area of Sintra in Lisbon is also affected by a light mist. The restaurants in Sintra are a little more exclusive and expensive than central Lisbon, but like Sausalito are definitely worth a visit.
Wine
Like the famous Californian Napa Valley vineyards located over the Golden Gate Bridge (mine's a Gallo White Grenache if anyone's asking) Lisbon is also home to a number of vineyards producing some of the world's finest wines. Having sampled a Lisbon red and rosé wine on my trip, I can tell you they are definitely worth sampling!
Food
You can't have wine without sampling some yummy food. San Francisco is a big foodie city and you can expect to eat a variety of cuisines, as well as some warming dishes to remind you of home. I loved the clam chowder served in a sourdough bread bowl.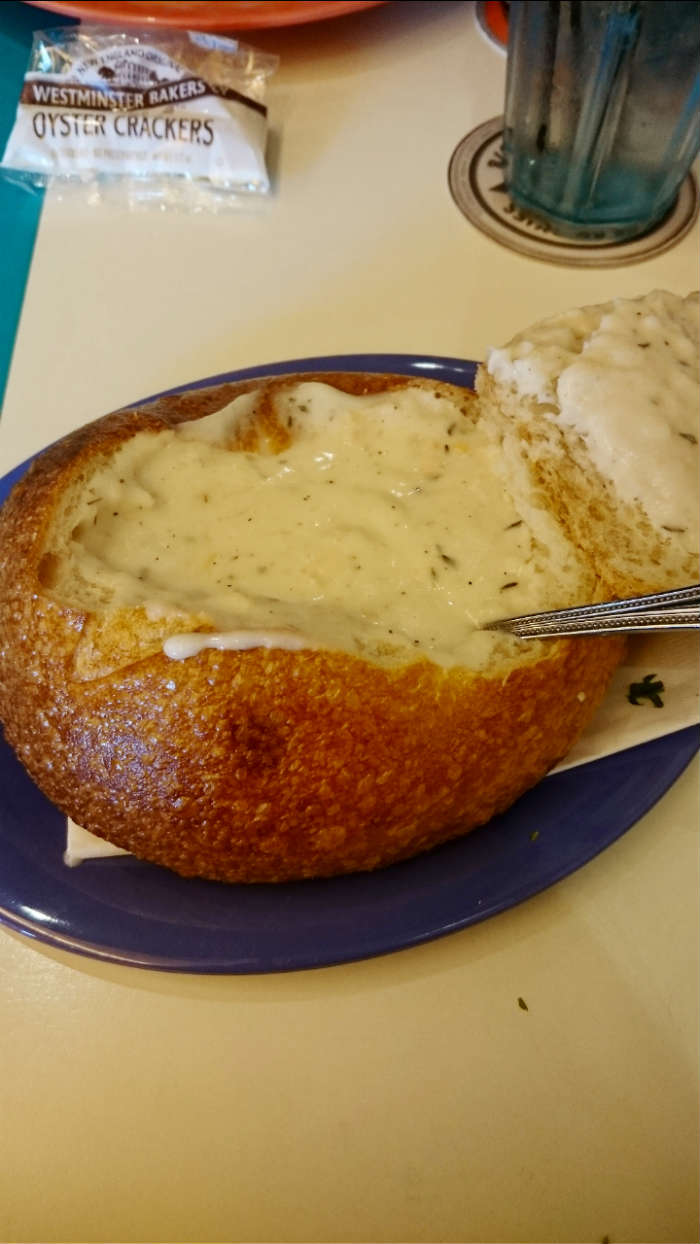 San Francisco
In Lisbon, it's all about the Pasteis de Nata (Portuguese custard tarts).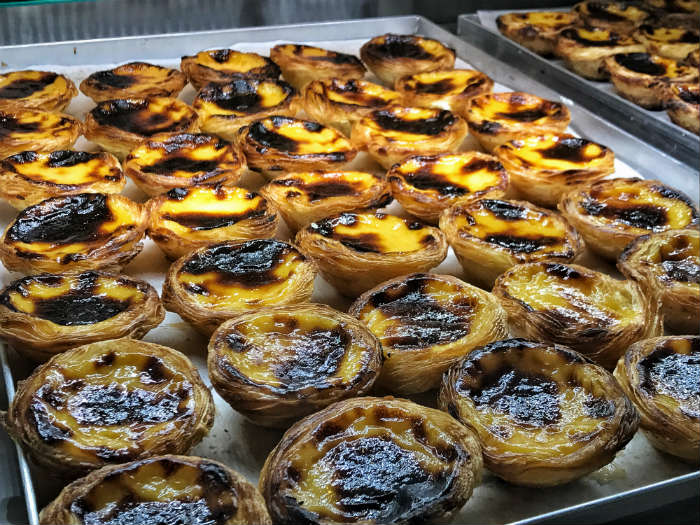 Lisbon
The Ferry Building in San Francisco is one of the most popular places to eat and contains fresh food from local farmers as well as a diverse range of eateries. A must-see in Lisbon is the Time Out Food Market, where a selection of the city's best restaurants serve a wide range of cuisines. All you've got to do is pick your restaurant, find your seat and tuck in!
Fancy a dessert? Well, San Francisco may be home to the Ghirardelli Chocolate Factory but Lisbon serves ginja; a cherry liqueur that comes in a chocolate cup and priced at a very appealing €1!
Retro
Haight-Ashbury in San Francisco is the birthplace of the 1960s hippie movement, aka Summer of Love. Jimi Hendrix and Janis Joplin lived there and partygoers travelled far and wide to immerse themselves in the music, culture and wear items from the many vintage stores.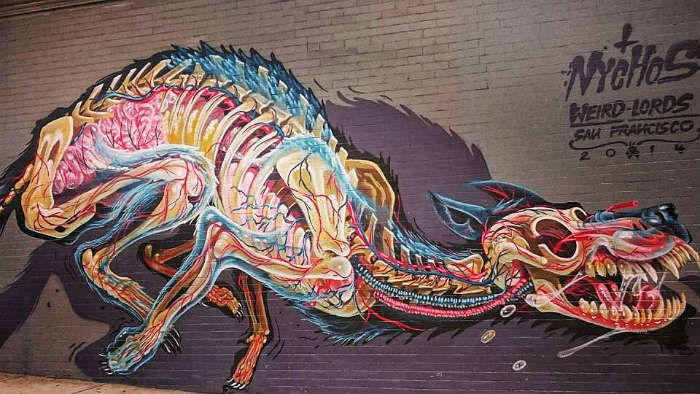 San Francisco
Similarly, Lisbon has its own 'hippie' area known as the LX Factory with street art graffiti on par with Haight and a selection of retro shops, bars & eateries with views over Lisbon's 25 De Abril Bridge.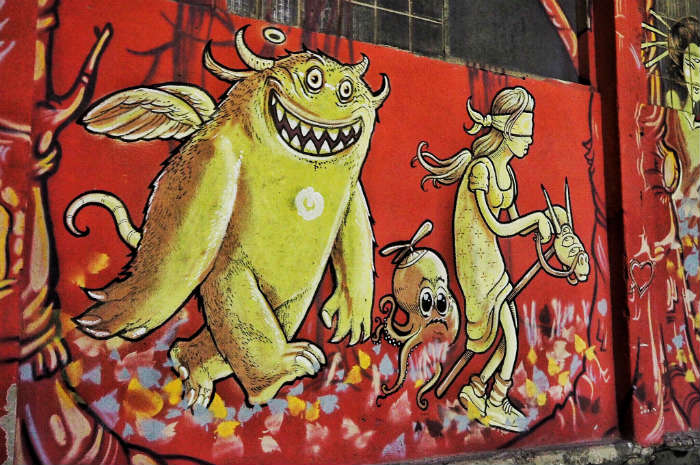 Lisbon
Enjoy a beverage at the LX Factory as you watch the sunset over the 25 de Abril bridge.
Hills
Lastly, I cannot make comparisons between Lisbon and San Francisco without commenting on the hills! If this post has inspired you to visit San Francisco, Lisbon or both then you need to ensure you're prepared to do some walking!
San Francisco, in particular, has some killer hills and after a day or so sightseeing you will feel it in your legs, which isn't necessarily a bad thing if you tuck into as much food as I do! The hills in Lisbon provide the perfect excuse to catch a tram and after reading this post you know where to head!
Did you know there were so many similarities between Lisbon and San Francisco?
About the author…

"Jasmine is a lifestyle blogger on The Life of a Social Butterfly. As a self-confessed social butterfly, Jasmine loves nothing more than travelling, shopping and discovering new places to wine and dine."