One of the most famous postcard pictures of the Greek Islands is that of Shipwreck Cove, also known as Navagio Beach, in Zante. You've probably seen it; the magnificent, rusting ship stranded on an idyllic cove, surrounded by imposing white cliffs and some of the bluest ocean you'll ever see. It's a sight to behold and is no doubt one of the top things to see if you're visiting Zante this summer. But, how do you get to Zante's Shipwreck Cove? Are there any facilities there? And how can you get that perfect Instagram shot of the cove from above? Don't worry, we're here to answer all your questions about visiting Zante's Shipwreck Cove.
How do you get to Zante's Shipwreck Cove?
There's only one way to get to Shipwreck Cove and that's by boat. There are several places where you can hop on a boat to get to this famous beach; the Harbour of Saint Nikolas near Volimes, which is to the north of Shipwreck Cove, or you can set sail from the island's capital city, Zakynthos. Another place to take a trip to the shipwreck is from the pretty Porto Vromi, a small, pretty harbour that means Shipwreck Cove isn't the only pretty beach you'll be seeing on your journey.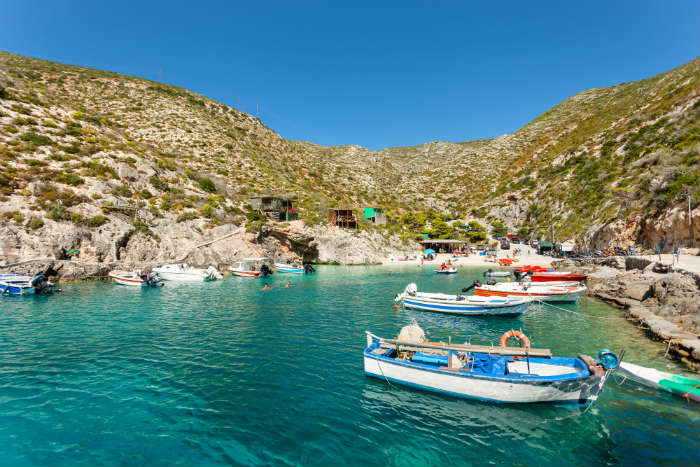 smoxx
/
Shutterstock.com
How long does the journey to Shipwreck Cove take?
This depends on what kind of boat trip you would like to take. The length of your day trip to Shipwreck Cove could range from 1.5 hours, if you simply want to see Navagio Beach, or you can spend a full day out on the ocean if you want to see Shipwreck Cove as part of a day tour of Zante's coast.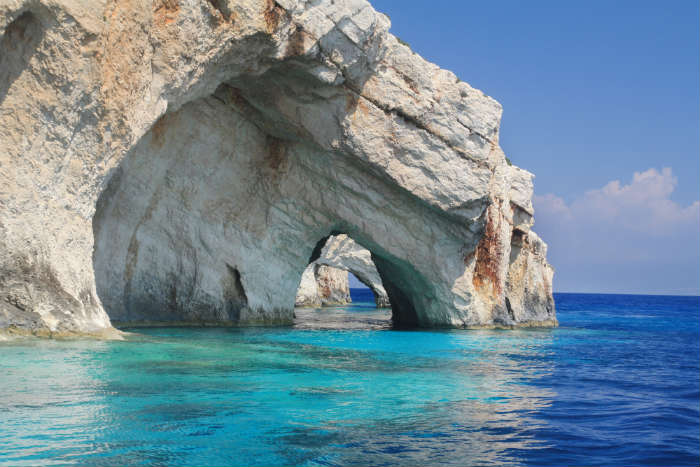 One of the most popular options is a 2.5 hour to 3 hour trip to Shipwreck Cove where the boat's skipper will also take you other coastal sights around Zante, such as the Blue Caves on the north east side of the island and the logger head turtles in Laganas Bay.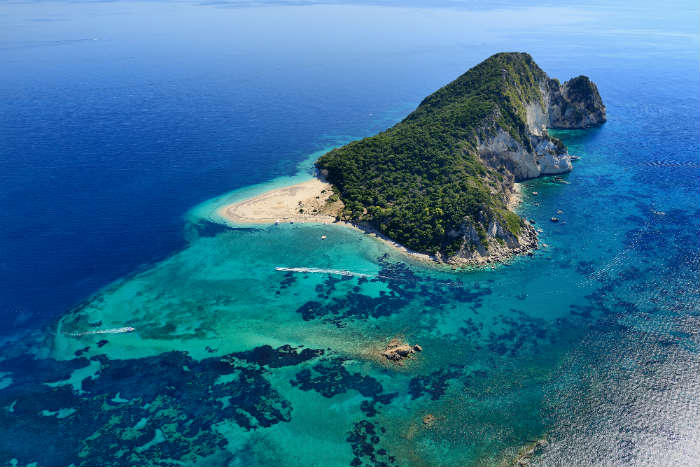 When is the best time to go to Navagio Beach?
There's no doubt about it, Navagio Beach and its shipwreck are one of the most popular attractions in Zante, so it's going to get busy. In peak season, the busiest times are between 10am and 2pm. The beach becomes very busy and there can be up to 20 boats moored here at any time.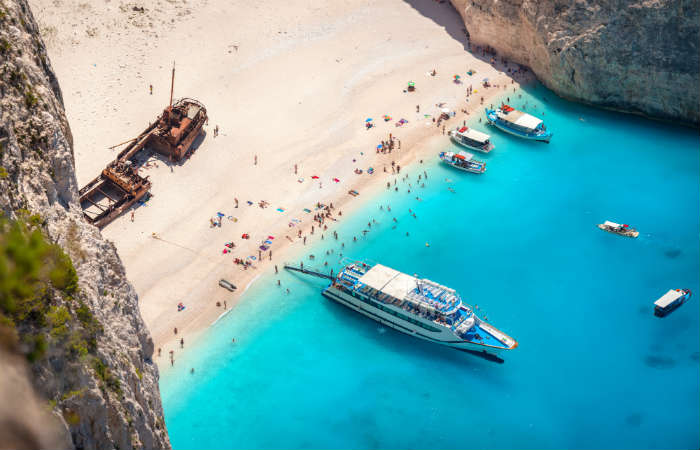 If you want to have the beach almost to yourself, come here early in the morning or after the peak afternoon rush. The beach with be relatively quiet and the atmosphere is more relaxing, giving you more time to explore the shipwreck and the beach at your own leisure.
Why is there a shipwreck in Navagio Beach?
There are many theories or reasons as to why there's a shipwreck on this beautiful beach. What we do know is that the boat came to rest on this previously deserted stretch of sand and pebbles in 1980 but how it got there, well, we'll let you decide…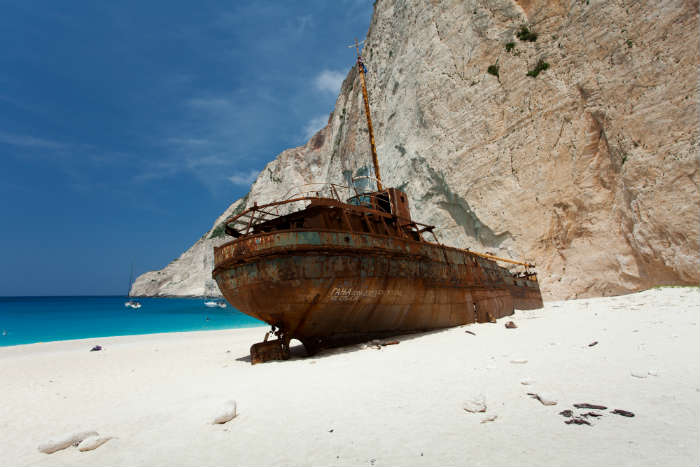 Some say, the Greek tourism board deliberately planted it there as a way to increase tourism to this small Greek island. The most popular story though is that the ship, named Panagiotis, was smuggling illegal cigarettes when the Greek Navy started to chase it down. The ship got caught in rough waters, washed up on Navagio Beach and has lived on the white sands ever since. Whichever story you choose to believe, there's no disputing that the wreck makes for a fantastic sight to see.
Are there any facilities at Navagio Beach?
Unfortunately, there are no facilities here. Navagio Beach is as basic as it gets so, if you're here for a long time, make sure that you bring plenty of sunscreen and some food. Most boats will have toilet facilities and a lunchtime meal from the on board BBQ but be aware that some boat trips may not offer food, so it's worth checking beforehand if you think you'll get a bit hungry.
Where can I can that picture perfect photo of the shipwreck?
To get that famous shot with your own camera, you'll have to drive to the cliff above Navagio Beach and follow the signs for "Navagio". Again depending on the time of day, it may be quiet or you may have to queue for a long time just to get a few seconds at the designated view point. If you don't want to queue and fancy exploring a bit, there is another trail along the cliff where you can get a view just as good, if not better, than that from the viewing point platform.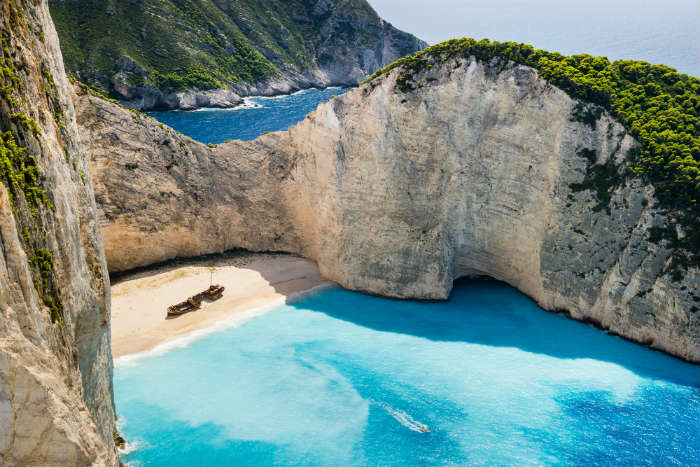 Is there anything else I need to know about Zante's Shipwreck Cove?
The one thing you may not realise is that if the water surrounding the cove is a bit choppy, or a bit rough on the day of your trip, you may need to swim to shore if you want to step foot on the sand. This is worth noting for people that can't or don't want to swim in the ocean – otherwise, if you do have to moor off the beach, be ready for a swim! Also you might want to keep in mind that the beach is a mixture of sand and pebbles so if you have sensitive feet, bring along some flip flops! The swim and sand are worth it though, even if the water is cool, as stepping foot on Navagio Beach is an experience of a lifetime.

Have you been to Zante's Shipwreck Cove before? If so, what did you think of it? Just let us know in the comments below!