From its vast mainland coastlines to the postcard-worthy shores of the Canaries and Balearics, Spain has more than its fair share of fantastic beaches – and some even bask under sun-kissed skies all year round.
Whether you're dreaming of turquoise bays or action-packed stretches of sand, here's nine of Spain's best beaches to add to your checklist.
1. Playa de Ses Illetes, Formentera
Beach bum or not, there's no denying that Playa de Ses Illetes is one of Spain's dreamiest beaches! With power-white strips of sand gently lapped by topaz waters, it wouldn't look out of place in the Caribbean or the Maldives.
To reach it, take the ferry to Formentera from Ibiza and walk the length of the Ses Illetes Natural Park – the journey is well worth it for the beach bliss that awaits.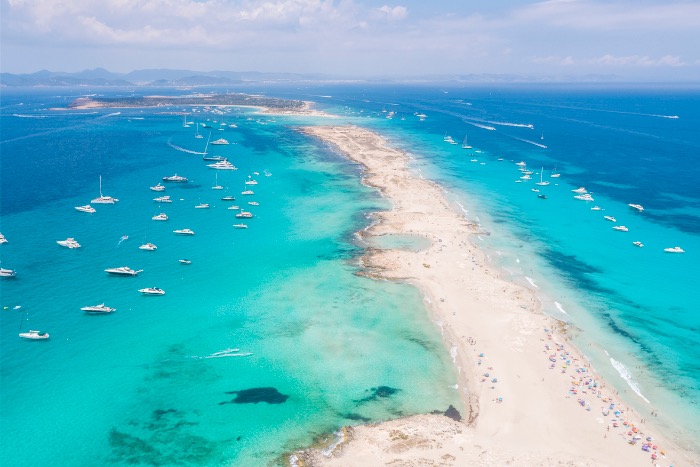 2. Playa de Llafranc, Llafranc
Costa Brava is well known for its sun-soaked beaches and the little coastal town of Llafranc has one of the best. Its sheltered, honey-coloured sand and shallow waters make it one of the region's top spots and a firm favourite for families.
Backed by a long promenade, you'll find plenty of local cafes and restaurants within easy reach, all with views out across the bay and harbour.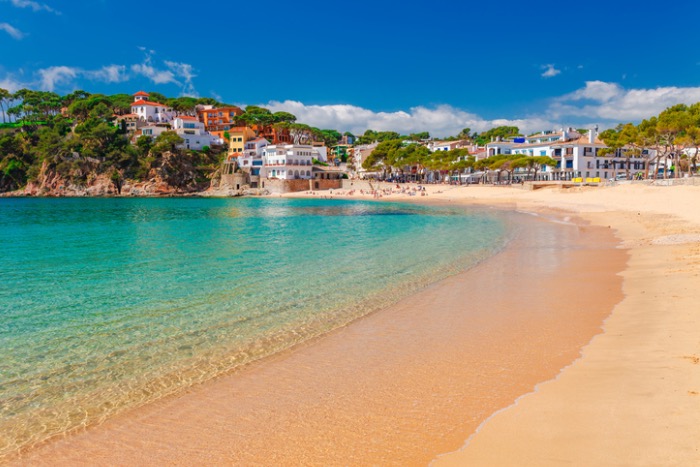 3. Playa de Maspalomas, Gran Canaria
As the Canaries' largest island, it seems fitting that Gran Canaria has one of the biggest and best beaches going. Fringed by golden sand dunes, Blue Flag Playa de Maspalomas epically stretches for 3.5km (2 miles) along the south coast.
Its vast length means there's a sunbathing spot for everyone here, plus the dunes are a great spot for seaside strolls and wildlife watching.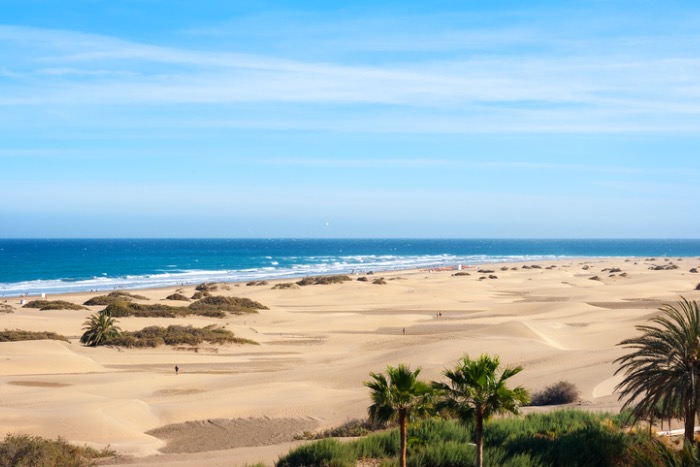 4. Playa de la Concha, San Sebastián
Frequently named as one of the best beaches in Europe, let alone Spain, La Concha is no stranger to a 'best beach' list. Its epic sweep around La Concha Bay looks like a giant lagoon and gazes out to Santa Clara Island.
You'll find soft sand and clear, shallow water that's great for paddleboarding and kayaking here, as well as incredible dining (there are four Michelin-starred restaurants here) just beyond the beach's iconic white promenade.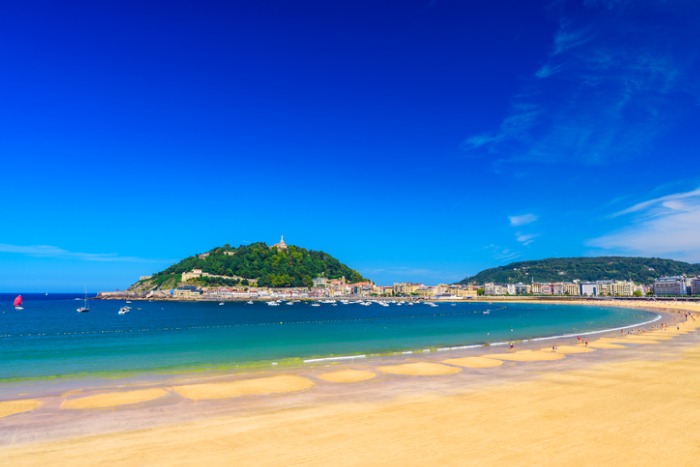 5. Playa de Alcudia, Majorca
Majorca has so many gorgeous beaches that it's hard to just choose one. But, with a showstopping 7km (4.3 miles) swathe of silky white sand, Playa de Alcudia is too good not to rave about.
Hugging the shore of Alcudia Bay, it has restaurants, shops, watersports and some of Majorca's best beach resorts all on the doorstep. You'll find it on the island's north coast, looking across to neighbouring Menorca.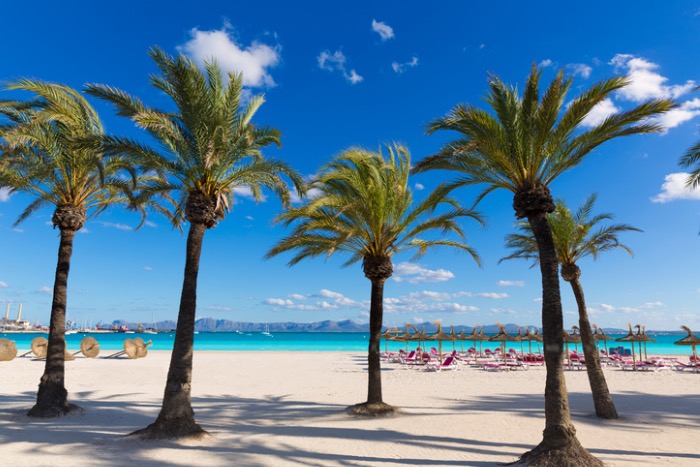 6. Playa de Bolonia, Cadiz
Heading to southern Spain on your next holiday? This is one beach you won't want to miss! Playa de Bolonia, on the coast between Cadiz and Tarifa, is easily one of the best in the region.
Its pristine sands are a haven for sun worshippers and coastal walkers. The gentle winds that sweep across the bay have created impressive sand dunes in the western corner and make for great kite and windsurfing conditions.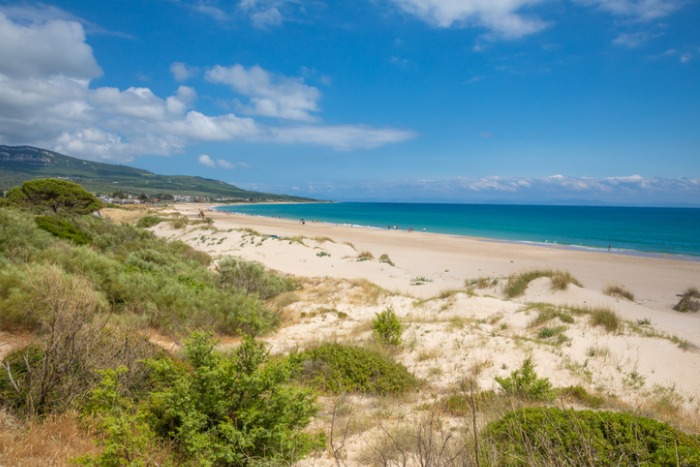 7. Playa de Portinatx, Ibiza
With sands as Instagram-worthy as its world-famous party scene, no round up of Spain's best beaches would be complete without mentioning Ibiza!
Nestled in a cove along the island's rugged northern coastline, you'll want to have your camera at the ready when you get to Portinatx – its gin-clear waters are as good as it gets. The little pocket of sand is perfect for topping up your tan while watching sailing boats cruise along in the distance.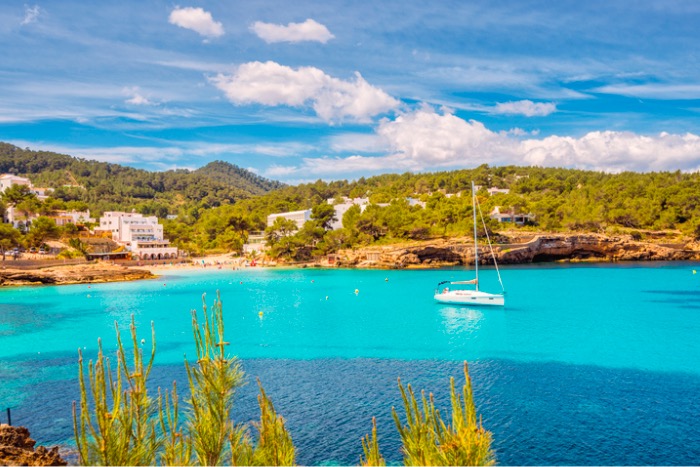 8. Playa Grande, Tossa de Mar
Forget sandcastles, Playa Grande has its very own medieval castle! You'll know you've arrived in lively Tossa de Mar as soon as you see the majestic stone towers and ramparts of Vila Vella, towering over the south end of the beach.
The seaside resort is a well-loved hotspot in Costa Brava and its sand-and-shingle beach, Playa Grande, ticks all the holiday boxes with sun-loungers and umbrellas, family-friendly cafes and watersports on offer.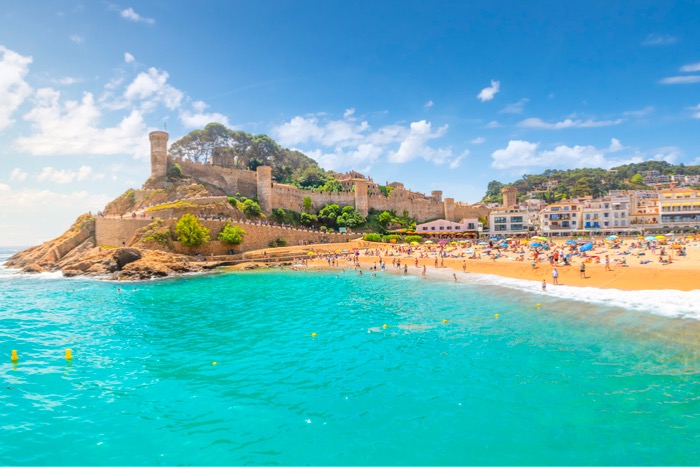 9. Playa de Sotavento, Fuerteventura
Playa de Sotavento's expanse of pearly white sands are as dreamy as Fuerteventura's beaches come. It forms a string of beaches spreading 9km (5.5 miles) along the island's southeast coast, scattered with sand bars and banks that stretch into the dazzling sea.
Little ones will love warm dips in the lagoons created at low tide, while surfers will want to head out further – Sotavento's offshore winds make it one of the world's top spots for wind and kite surfing!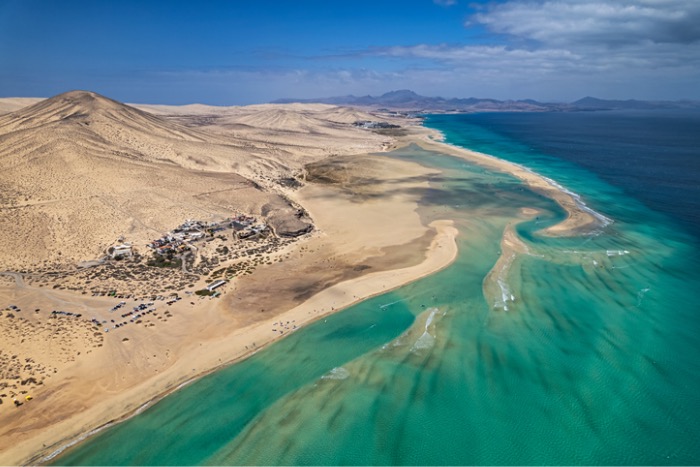 Did we miss your favourite or do you have the insider goss on Spain's top beaches? Tweet us @icelollyholiday and let us know!