Turkey's southern coastline has every kind of beach imaginable. From pine-fringed sands packed with all the facilities to dramatic coves only accessible by boat, Turkey's beaches are as diverse as they are gorgeous.
Here's nine of the best for your next beach break to Turkey.
1. Blue Lagoon, Olu Deniz
As Turkey's most iconic beach, Olu Deniz's Blue Lagoon deserves the top spot on any 'best beach' round up. More than just good looks, this Blue Flag stunner has powder-soft sands for sunbathing and calm waters protected by a huge sand bar – ideal for snorkelling, kayaking and paddle-boating.
Get there by car or bus from Fethiye or take the scenic route: by paragliding from Babadağ mountain!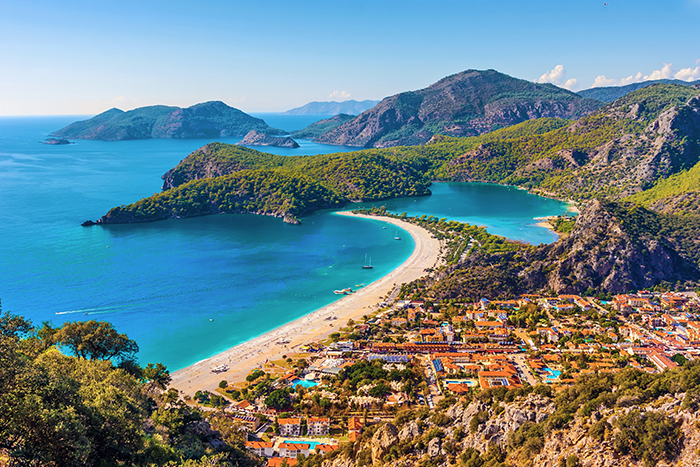 2. Cleopatra Beach, Alanya
Named after the Egyptian queen who is said to have bathed here, Cleopatra Beach certainly lives up to its legendary reputation! Stretching along Alanya's coast, it boasts a 2km (1.2 mile) ribbon of amber sand and crystal-clear sea.
You'll find plenty of restaurants, bars and shops close by, plus sun-loungers and umbrellas to rent. It's a popular hub for watersports too, with parasailing, jet-skiing and kitesurfing all on offer.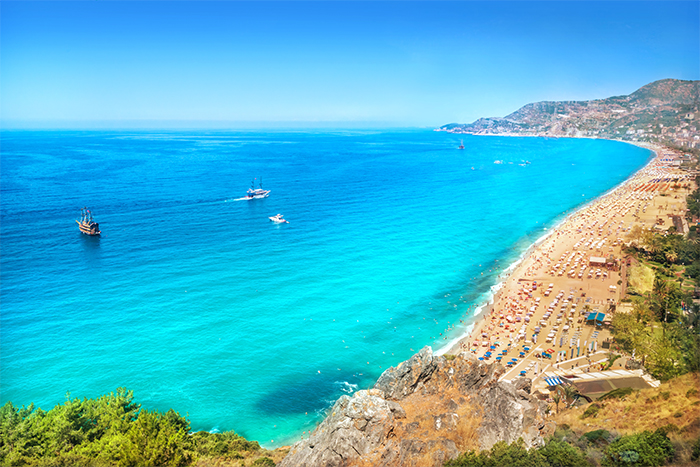 3. Iztuzu Beach, Dalyan
Iztuzu isn't just a hit with holidaymakers; its pristine, protected sands are loved by the adorable loggerhead turtles that lay their eggs here, too.
Its 4.5km-long (2.7 miles) strip of sand is wonderfully undeveloped, though you'll still find plenty of sun-loungers and umbrellas for hire.
Arrive via a boat taxi from Dalyan for a beach trip and sightseeing tour in one – the route takes in the ancient Lycian rock tombs, another of the area's highlights.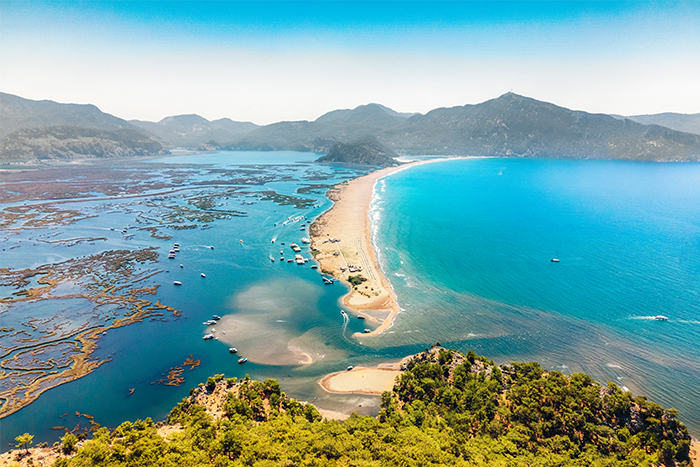 4. Butterfly Valley, Olu Deniz
Nestled between dramatic cliffs and home to a dazzling array of unique butterfly species, this secluded little pocket of sand is as fairytale as it sounds. Add its gentle, aquamarine seas and a waterfall hidden in the valley, and it becomes pure magic!
You'll find Butterfly Valley just 20 minutes south of the Blue Lagoon, only reachable via boat or a challenging hike from Faralya. Visit in spring for your best chance of spotting the winged wonders.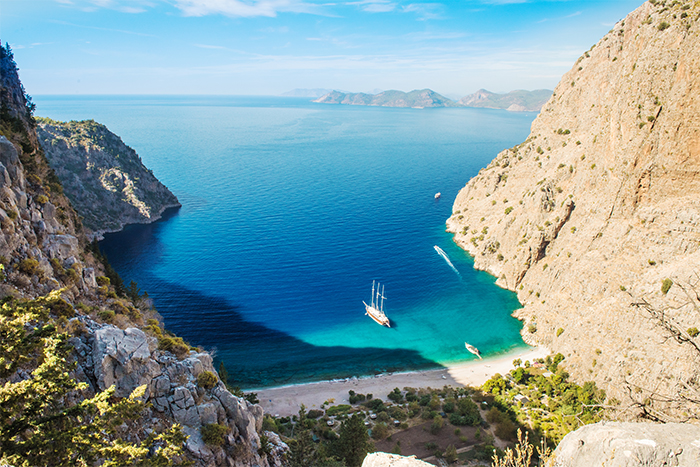 5. Patara Beach, Kas
Turkey's largest beach – we're talking 20 whopping kilometres (12 miles) long – is pretty hard to miss. But its size is not the only thing that makes Patara stand out.
Like Iztuzu, it's an untouched, undeveloped turtle haven and you won't find a single hotel along its honey-coloured sands. What you will find are desert-like dunes and the ancient ruins of Patara City.
The shallow shoreline is ideal for families while the larger offshore waves are a draw for surfers.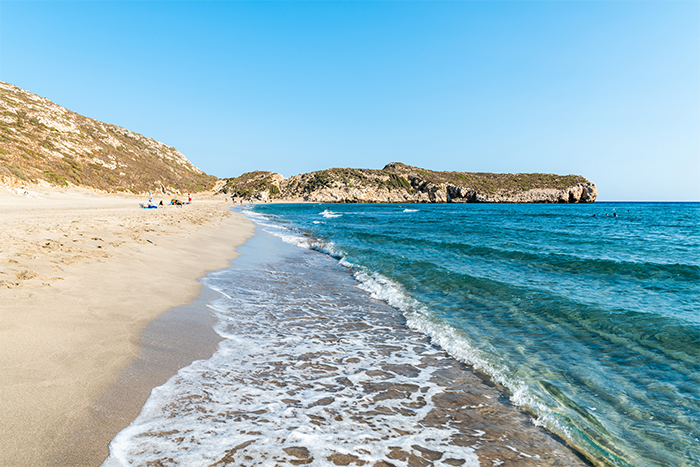 6. Icmeler Beach, Marmaris
Located in the heart of the Turquoise Coast, Marmaris is one of Turkey's most popular beach resorts. Unsurprisingly, its main beach gets pretty crowded, so head instead to Icmeler's golden shores, just a 15-minute drive south.
Sheltered by pine-clad hills and looking out onto Keci Island, it's one of the region's most picturesque beaches. There's tons to do, too. Keep it chilled out with swimming and snorkelling or seek out watersport thrills with parasailing and banana boating.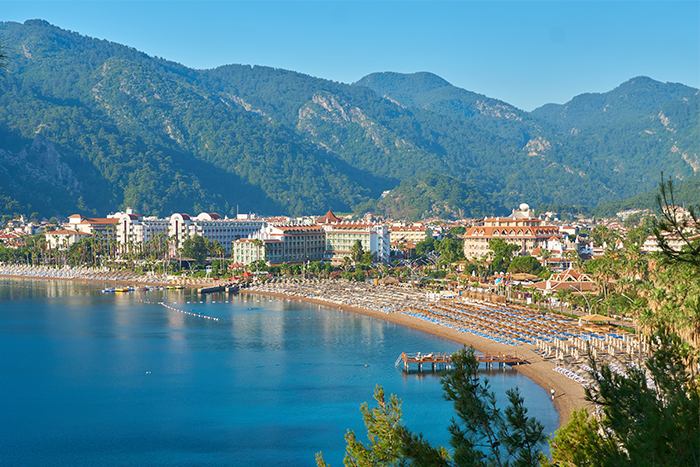 7. Konyaalti Beach, Antalya
Beach-goers are spoilt for choice in Antalya, but Konyaalti's sand-and-shingle stretch beneath the Taurus Mountains is easily the best choice. With clear teal waters, pristine shores and an excellent range of facilities, it's well worthy of its Blue Flag status.
Come day or night, there's something going on here. The beach's cafes and kiosks offer daytime refreshments and watersports, while the beach clubs, bars and lively promenade keep the entertainment going long into the evening.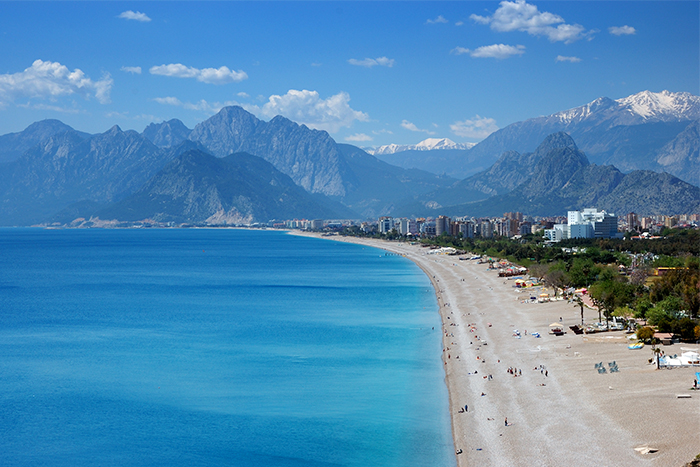 8. Cirali Beach, Cirali
Looking for laidback? With a string of simple bungalows and low-key tavernas, Cirali feels refreshingly distant from the busy resorts on Turkey's Mediterranean coast.
Its strawberry blonde pebble-and-sand stretch sits between fragrant fruit orchards and pine-covered mountains and has plenty of space for sunbathing. For something a little different, the ancient city of Olympus is just a 15-minute walk away.
Head inland as night falls to witness a fascinating wonder: the Yanartaş Burning Rock.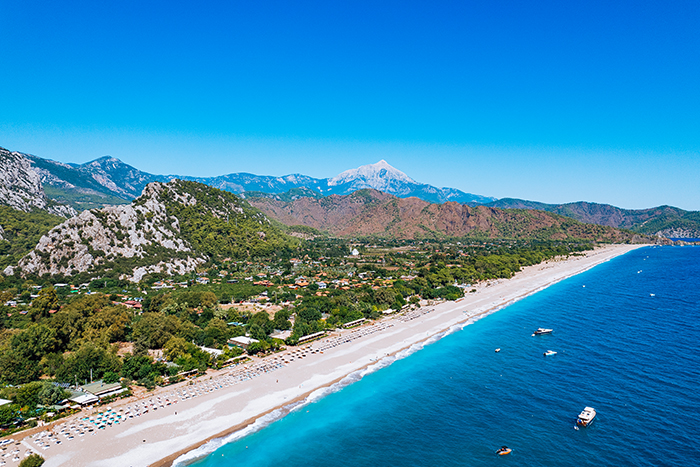 9. Kabak Beach, Kabak
Kabak has evaded the spotlight of better-known neighbours, Olu Deniz and Butterfly Valley, and its idyllic pebbly beach is one of the coast's last hidden gems.
Flanked on either side by verdant mountain valleys, it's visited mainly by locals, hikers and campers looking to stay off the beaten track.
The hike down to the beach from Kabak village is steep, but well worth it for the baby-blue bay that awaits.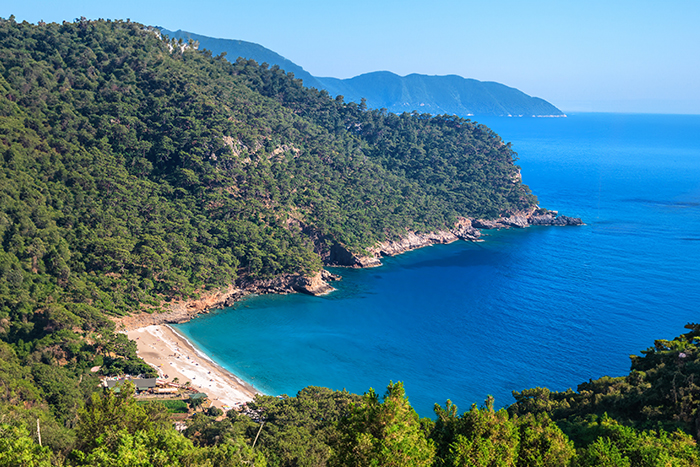 Which of Turkey's best beaches will you be adding to your bucket list? Tweet us @icelollyholiday and let us know!