Yep, it's back again. After blog posts on the best all inclusive hotels in the Canaries, the Algarve and Cancun, we're continuing our feature with a brand new holiday destination. "But which place are you focusing on this time, icelolly.com?" we hear you all cry. Except those that read the title and just wished we'd get on with it. Well, for anyone who perhaps didn't get all the way through the headline before failing to fight off that huge inner urge to find out more, it's all about Mauritius. Wait, no. Majorca. That's right Majorca holidays. Even we were a bit quick on the trigger there…
Pirates Village, Santa Ponsa
Shiver me timbers! We're kicking things off with a look at the unique pirate-themed hotel Pirates Village in Santa Ponsa. Built in 1995 and extensively refurbished during winter 2013, it's every bit as surreal as it sounds, decorated to look like a ship from the outside and offering a number of quirky activities that encourage guests to live a pirate's life indeed. All apartments come with a pool-view balcony or terrace and the hotel serves a variety of national and international dishes, including a buffet restaurant for breakfast, dinner and lunch. 'Squawk, dinner and lunch'.
The Pirates Bay Splash Pool is complete with a fortress, galleons and water slides that'll have ye screaming "aaarrrggghhh" all the way down whilst other parts of the daytime itinerary include an interactive treasure hunt and a special event where guests are invited to defend their village from invading pirates. So for a Jolly Roger of a time with all the family, shout "land ahoy!", make like holiday pirates and enjoy an all inclusive trip that's sure to bring memories you'll treasure.'Squawk, treasure!' Argh, where did this parrot come from?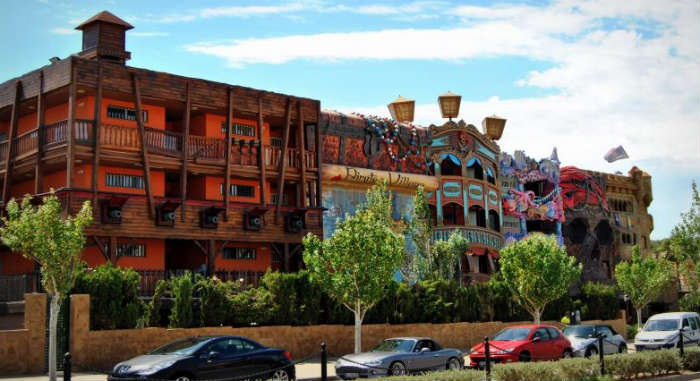 Viva Blue & Spa, Playa de Muro
Located in the cosmopolitan area of Playa de Muro, 200 metres from the nearest beach and close to Albufera's Natural Park, Viva Blue & Spa is ideal for those looking for a chilled out trip that allows relaxation in abundance. Spectacularly themed buffets are offered in Restaurant Thalassa at meal times whilst guests can cool off during the day with a holiday drink or two at the poolside bar. Built with a spacious landscaped garden, alongside indoor, outdoor and child swimming pools, you can take a morning dip in picturesque surroundings before a friendly* game of tennis, football or basketball on the multi-sports playing field. *We say friendly, holiday or not you can't let that annoying dad with the sunburnt beer belly and needlessly tight budgie smugglers get one over on you.
Whether you're looking to let off some steam at the hotel's sauna, enjoy a soothing massage or hit the water for some wind surfing, guests are spoilt for choice with a similarly varied evening entertainment programme that's sure to cater for all the family.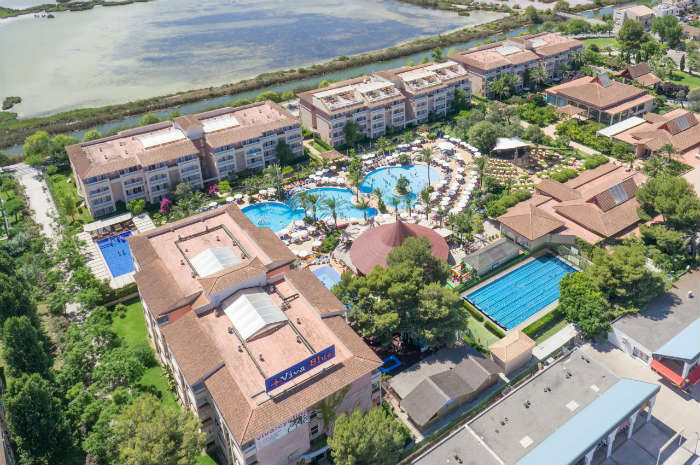 Sentido Pula Suites Golf & Spa, Son Servera
Serenely situated on a hill overlooking the Costa de los Pinos and its beautifully crystal clear waters, Son Servera's Sentido Pula Suites Golf & Spa makes for an all inclusive getaway with tranquillity guaranteed. Each suite is spread amongst trees and shrubs within the hotel's attractive grounds whilst its elevated inland setting provides scenic views of the surrounding countryside. A buffet breakfast and a la carte lunch and dinner as well as locally branded alcoholic and non-alcoholic drinks and snacks are available with the all inclusive package, not to mention access to the luxurious lounge terrace bar.
The multi-level outdoor swimming pool allows guests the opportunity to take a relaxing swim after a few rallies on the tennis court or workout in the gym and evening entertainment includes live music in the lounge bar three times per week. Don't forget to also make time for a round at the locally located 18 hole golf course that'll putt (ahem) you in the calming mood you crave for on your next holiday.
Iberostar Playa de Palma, Playa de Palma
Fully renovated last year, the amazing 5* Iberostar Playa de Palma hotel boasts an incredible beachfront location surrounded by many deluxe amenities. Ideal for a family-friendly getaway, there is also an exclusive Star Prestige zone including an adults only private sunbathing area and infinity pool for when you just need some of that all-important down time. With luxury sea and pool-view rooms available, wake up to some of the most stunning sights seen anywhere across Playa de Palma before dining in the Marea restaurant, which offers grill recipes and other specialities, all made from fresh products.
The exclusive Spa Sensations area allows guests the chance to relax in a whirlpool tub, Turkish bath and sauna, whilst massage and facial treatments will help you to recover from organised sports and entertainment activities. This includes water sports, professional animation shows and a nearby golf course which a little birdie told us is a great way to spend your day. "Sigh. You already milked the golf pun, icelolly.com." Oh come on, we're only just getting into the swing of things…