Greece is no stranger to travel wishlists – and it's no surprise. Stunning islands and charismatic old towns come as standard on a Greek getaway, and pretty beaches are as irresistible as its cuisine.
We've narrowed down some of the best places to go in this beautiful country to help you decide which Greek hotspot ticks all your holiday boxes.
1. Rhodes
From its sparkling turquoise waters to its medieval old town, Rhodes is sure to charm. Sightseers will love the castellated city with its mosaic streets, wide moat, and enchanting gardens, while foodies will get excited by its menus, which feature everything from the humble – but delicious – gyro and a glass of beer, to oysters and champagne.
The island is brimming with interesting historical sites and traditional villages and you'll never be far from a gorgeous beach. Top up your tan on a long sandy sweep or settle down for a picnic at a small secluded cove.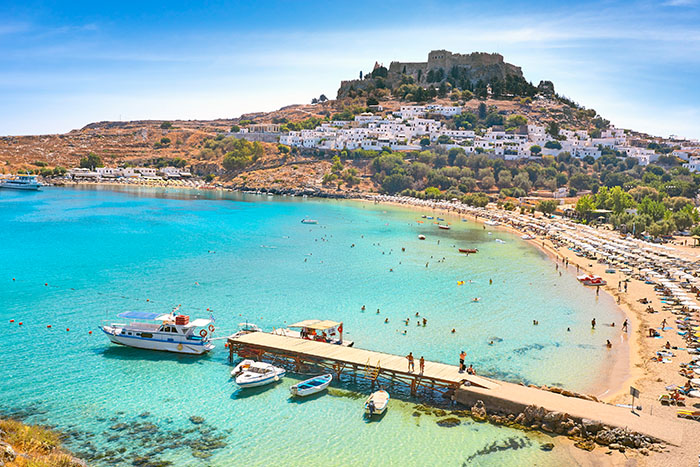 2. Karpathos
Base yourself in Karpathos and you'll be treated to a taste of traditional Greek living. This Aegean island appears untouched by time, filled with picturesque churches, rustic tavernas, beautiful natural landscapes and local markets laden with homemade produce such as soaps and olive oil.
Spend your days feasting on local delicacies including stuffed courgette flowers or snorkelling on some of Greece's best beaches. Then, dance your evening away to traditional music played on the lyra and tsambouna (a type of bagpipe).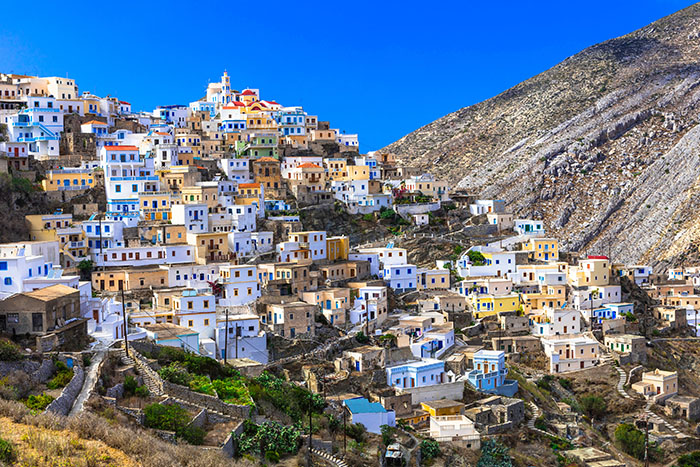 3. Paros
If you thought Mykonos was the most scenic of the Greek islands, wait until you see its neighbour. The views of the whitewashed houses and shining marble buildings of Paros Town are broken up only by picturesque windmills and blue-domed churches.
Holidays to this quiet Greek isle are all about strolling the paved alleyways in the postcard-perfect villages, lounging until your heart's content on pristine beaches and eating octopus in the quaint coastal village of Naoussa. Head here in summer to join its street festivals.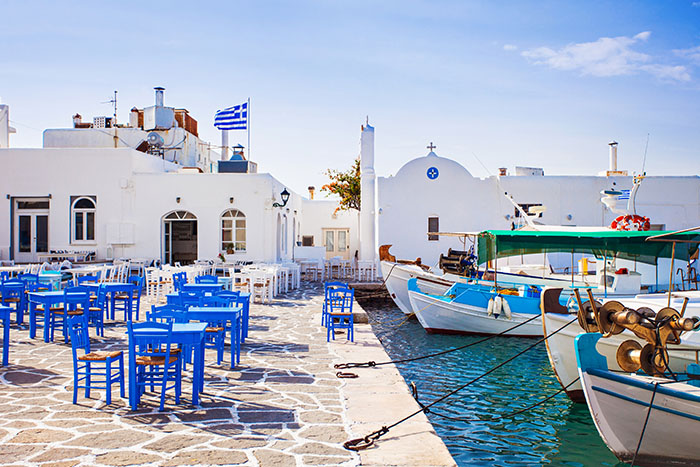 4. Athens
Greece's metropolitan capital needs no introduction. Bursting with things to see and do, your holiday itinerary in Athens is sure to be action-packed. The city's iconic archaeological sites are a great way to delve into the city's history – you'll find no shortage of ancient temples and impressive amphitheatres here – or you can visit the National Archaeological Museum for incredible collections of ancient Greek artefacts.
Other top activities to add to your list include checking out the city's vibrant street art, hitting the shops for boutique fashion finds and sipping cocktails from rooftop bars come nightfall.
5. Kos and Nisyros
If you're seeking a slice of Greek island paradise, Kos might just be it. With a show-stopping coastline stretching almost 300km (186 miles), there are more places to soak up the glorious Mediterranean sunshine than you can shake your towel at!
But there's plenty more than beaches to keep you entertained, including watersports of every kind and a wealth of ancient ruins just waiting to be explored.
For a memorable day trip, take one of the many small boats to the neighbouring island of Nisyros, which legend says was formed by the battle of the Gods with the giants.
6. Naxos
Naxos is the largest of the Cyclades island group and, some argue, the most beautiful. Majestic mountains are divided by lush green valleys of pomegranate, lemon, and olive groves and you'll find handfuls of hilltop villages, Byzantine churches and historical sites scattered between them, too.
Mount Zeus dominates the island's centre and is a great hiking opportunity for more adventurous holidaymakers. Elsewhere, the old town is equally as idyllic with Venetian-style balconies and café-lined platias, plus there's golden sandy beaches aplenty.
7. Peloponnese
The Peloponnese peninsula may not be as famous as Greece's islands but it's every bit as impressive. This south-western region, not too far from Athens, is a top choice if you're looking for both ancient marvels and instagram-worthy scenery.
The region is home to some of the most famous archaeological sites in Greece including Olympia – once the host of the ancient Olympic Games – and the spectacular theatre of Epidaurus.
Once you've filled up on its cultural gems, get ready to explore the Peloponnese's rolling vineyards, honey-hued beaches, olive grove-covered valleys and medieval castle towns such as Monemvasia, which is spectacularly situated on a cliff-backed plateau.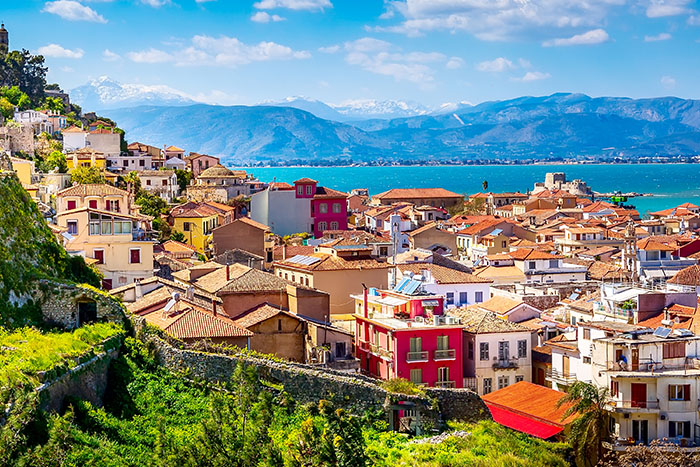 8. Crete
With everything from Venetian harbours and Turkish mosques to deserted beaches fringed with palm groves and lakes teeming with wildlife, Crete is as diverse as Greek islands get.
There's something for everyone here – history buffs can visit the ancient Cave of Zeus, adventure seekers can hike through Samaria Gorge, and nightlife-lovers can kick on 'til dawn at beach bars and parties in Malia.
Sun-worshippers won't be disappointed either. Must-visit beaches include Balos Bay, Elafonisi's islets, the Egyptian-palm beach of Vai and mesmerising Chrissi Island with its pink-sand beach.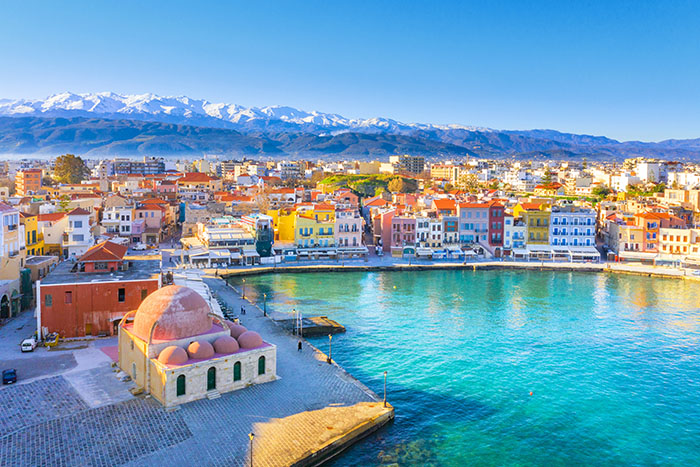 9. Santorini
A bucket list destination for many, Santorini's whitewashed towns and panoramic Mediterranean views have long been luring tourists to its breathtaking shores. As a result, peak seasons get very busy here, but there's still plenty to enjoy away from the crowds.
Visit the capital, Fira, soon after sunrise to explore its pretty streets in peace, then take a walk around the settlement of Akrotiri and wonder what happened to the occupants of this ancient city.
Afternoons are best spent enjoying the island's unique black-sand beaches, created by volcanic ash from historic eruptions, or bathing in the volcanic hot springs around the Palea and Nea Kameni isles.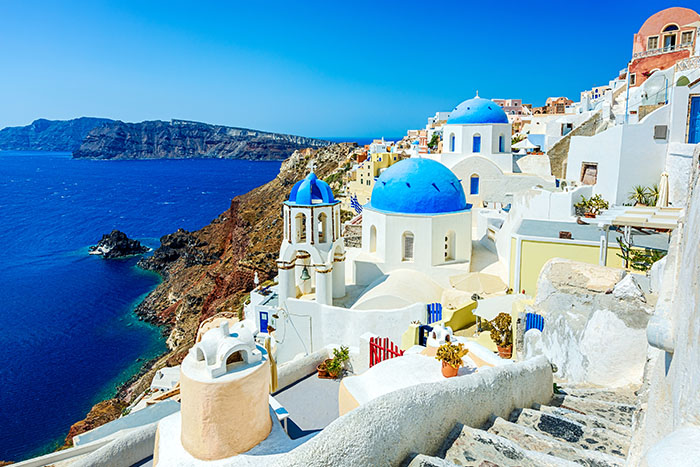 10. Syros
Syros is a delightful Greek island that has managed to sidestep the throng of tourists, despite its quaint villages, amazingly ornate churches, and beautiful beaches. The capital, Ermoupoli, is famed for its collection of neoclassical buildings and its beautiful natural harbour is a bustling port.
Enjoy tranquil swims in the calm, clear waters or hit the walking trails for inland adventures, then settle down at a taverna to sample the best of local produce, including vegetables, olive oil and wine.
Plan your holiday for the summer months to see musicians gather from all over Greece for a month-long festival celebrating rebetiko music – known as the Greek blues.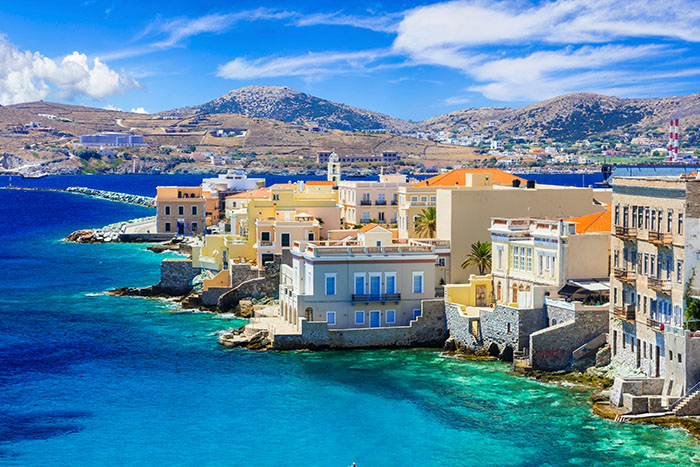 Do you have a favourite holiday spot in Greece? Tweet us @icelollyholiday and let us know!