Christmas is coming, guys! Well, that's not strictly true. The day of festivities just sits there on the same date each year and doesn't budge one bit. Nope. If anything, we're coming for Christmas when you think about it. Either way, 25th December isn't too far in the distance and there's no better way to celebrate Yuletide than on holiday. Unless you're Santa Claus and have been forced to work. We've heard he's fuming to be doing the night shift again this year. But if your job doesn't involve donning a red suit, growing an extensive amount of facial hair and sliding down a chimney or two, check out this list of places to enjoy Chrimbo on your travels.
New York
Nowhere does the festive period quite like New York. The city turns into an illuminated winter wonderland, decked out with Christmas trees, window displays, bright lights and a unique aura that keeps bringing Xmas lovers back each year. There's all sorts to cram in, so you'll have to get your skates on to do and see as much as you can. Literally in some cases, with an ice skating session at Central Park's Wollman Rink certainly a must before heading off to warm up with a holiday hot chocolate. Macy's Santaland is also great if you're visiting with the kids and there are a number of concerts and shows dotted around the main touristy areas to get you in the seasonal spirit. Remember to factor in plenty of shut eye however. NYC might be referred to as The City That Never Sleeps but Saint Nick won't stand for any of that. And he definitely knows when you're awake…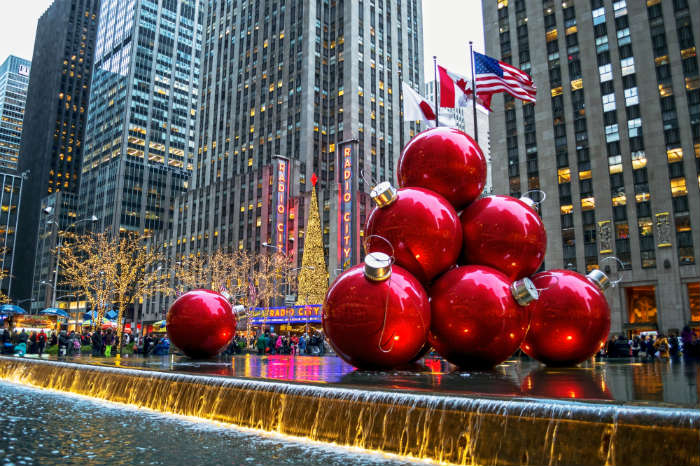 iStock.com/Andrew F Kazmierski

Berlin Christmas Markets
A country famed for its delightful Christmas markets, Germany is widely suggested to have initiated the annual craze now seen pretty much worldwide at this time of year. Many German towns and cities have their own individual market, or Christkindlmarkt as the locals call it, but we're focusing on the big daddy, the capital; Berlin. There are countless Xmas markets of differing sizes to explore, each with quirky stalls selling everything from gifts and decorations to huge hot dogs and even bigger glasses of beer. Keep yourself cosy with a bit of Gluhwein (mulled wine) or Feuerzangenbowle, its rum-laced cousin, whilst sweet treats like Schmalzkuchen, or 'lard cake' as it roughly translates to, will satisfy your sugary craving. We're not joking about the lard cake bit by the way, but they're actually just like doughnuts so it's all good. The Winterwelt also claims to be home to Europe's largest mobile toboggan run if you fancy an adrenalin kick. Toboggan or not toboggan…that is the question.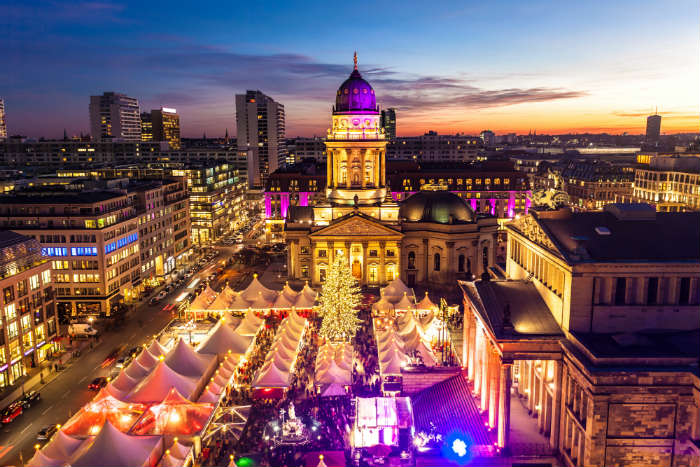 Disneyland Paris
The magic of Christmas is well and truly alive, certainly so at the place where magic comes in abundance; Disneyland! Join Santa and characters from some of your favourite childhood movies at the Christmas Parade, featuring festive-themed floats and music for an unforgettable family experience. There's also a spectacular firework display to feast your eyes upon whilst the vastly decorated park will absolutely get you excited for the big day, especially once you've headed down to Town Square for a merry sing-along in front of the giant Xmas tree. Paris itself as the French capital has its own celebrations and is quite a sight from the top of the Eiffel Tower. It's also common to 'lick a window' throughout the city which basically means to window shop. If anybody asks you to physically lick a window, please don't. They'll be very much speaking with tongue in cheek, leaving you with tongue firmly out-of-cheek, so to speak.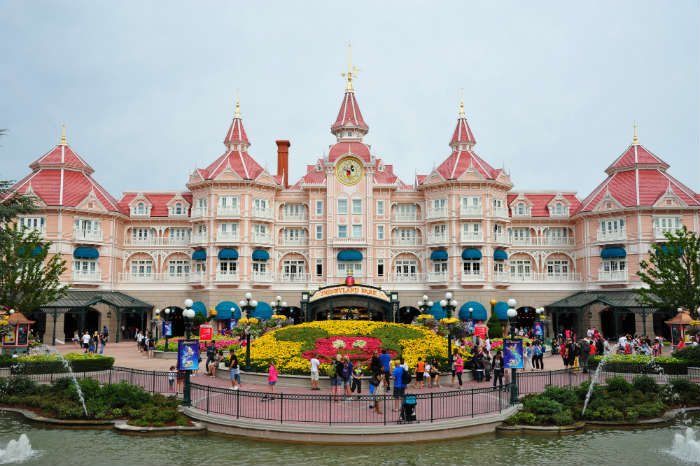 iStock.com/nevereverro

Iceland's Northern Lights
Santa's sleigh doesn't have to be the only thing you search the skies for this Chrimbo! Iceland captivates visitors at any time of year but the wintery months have a special allure, with the added bonus of being able to gaze upon the amazing Northern Lights. Thought to be the most affordable and convenient Aurora destination to take a trip to from the UK, this stunning volcanic island can be explored independently or on small, organised group tours. The natural light display will make for a charmed Christmas evening, right after you've spent the day whale watching, experiencing the thrill of hitting the slopes on a rented snowmobile or bathing in the toasty geothermal spa, Blue Lagoon. Which will come as a much-needed form of warmth because, you know, they don't call it Iceland for nothin'.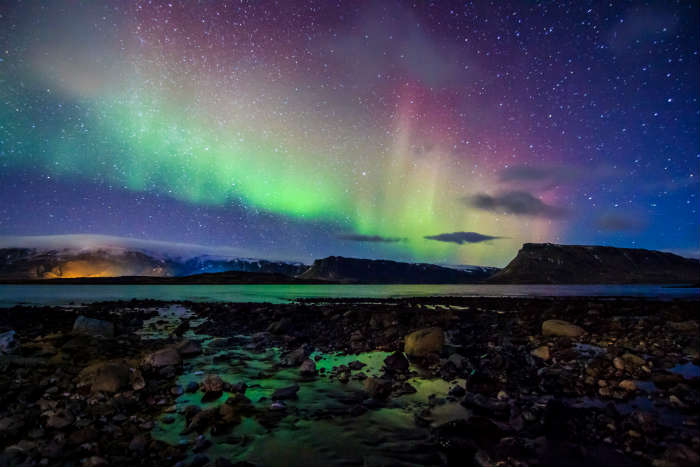 Maldives
If the above doesn't sound like your cup of cocoa, perhaps a getaway to the more quieter surroundings of the Maldives could be just what you need to hide from the Yuletide razzmatazz. Maybe you're still bitter about that time all you opened on Xmas morning was a badly knitted jumper and a novelty (insert gift here), or you might just want to escape awkward encounters with distant elderly family members who may or may not have developed a bristly moustache in their later years. Who even is great aunt Mavis anyway, right? Well whatever your reason, a tropical break may well be the answer. Swap the Christmas trees for palm trees, snow for sand and ensure the only presents you experience is your presence on a beach.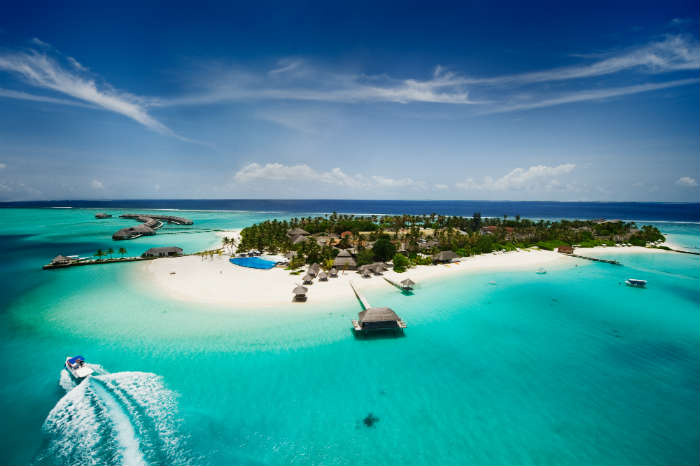 Where's the best place you've celebrated Christmas abroad? Going anywhere nice this year? Comment below and let us know!