August is peak summer holiday season for Brits; families jump at the chance for some quality time away during the school holidays, and sunseekers are tempted away by the warm temperatures just across the Channel in Europe. If you don't have travel plans you might find you're the only one!
Costa Brava, Spain
Average temperature: 27°C
Flight time: 2 hours
This beautiful stretch of coastline was one of the first Spanish resorts to become popular among British tourists, and remains so to this day! Most holidaymakers are drawn chiefly to the beautiful beaches, but there are many attractions which keep people returning year after year. Away from the centres of the resorts there are many medieval villages to be found where visitors get a sense of being transported back in time, and inland hiking and biking trails can be found in the mountains. A holiday in the Costa Brava is the perfect choice for food-lovers; popular dishes include fried calamari and crab risotto, and the highly-rated local wine is wonderfully cheap.
Sicily
Average temperature: 22°C
Flight time: 2 hours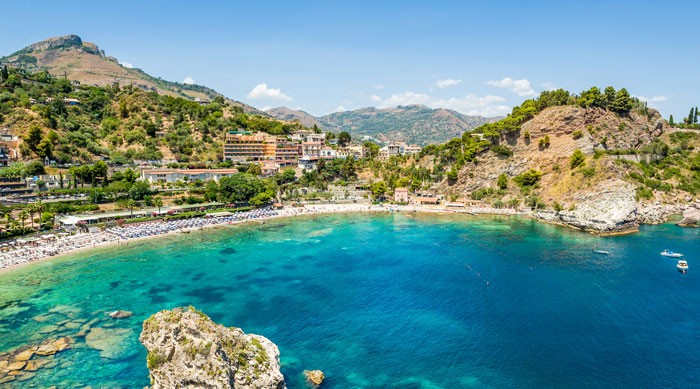 Sicily is a stunning part of Italy, characterised by rugged scenery and deep turquoise seas. There's no shortage of sunbathing spots; visitors can choose between sweeping beaches and secluded coves, and in August the sea is pleasantly warm for swimming. The highlight of a Sicilian holiday is the trip up Mount Etna, Europe's tallest volcano. Hiking all the way up is suitable only for the extremely fit, but the mere mortals among us can take a cable car or a 4WD tour, both of which involve only short walks, to see the rivers of solidified lava and great views from the summit. When you return to the bottom treat yourself to a Sicilian cannoli, a fried dough tube with a sweet filling of ricotta, sugar and vanilla extract.
Cyprus
Average temperature: 26°C
Flight time: 4 hours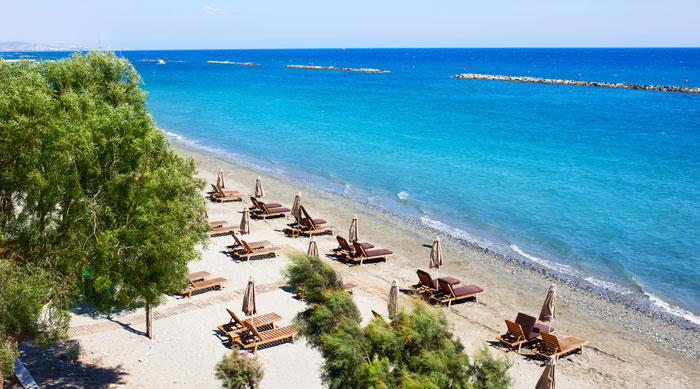 The beaches of Cyprus are a paradise, with long stretches of white sand and crystal clear waters. Cyprus is the perfect choice for a fun-filled summer holiday; the island almost seems to have been designed for unwinding and having a good time. Many of the 4 and 5* hotels in Cyprus have equipped themselves with spas where visitors can go for a pampering session, or sports lovers can test their skills on one of the many golf courses. However you like to spend your evenings there is a resort to cater for you; Ayia Napa is full of bars and clubs where you can dance until dawn, or if you enjoy a more low-key evening Paphos has plenty of restaurants and relaxed bars.
Barbados
Average temperature: 27°C
Flight time: 8 hours
A holiday in Barbados soon reveals why this is one of the most popular destinations in the Caribbean; the beaches are a slice of paradise, with soft, warm sand and calm seas for safe swimming. Swimmers will find themselves sharing the water though, as Barbados is a prime location for jet-skiing, sailing and surfing. Scuba divers also come here to see the coral reefs and marine life, but if you can't dive try a submarine tour to discover this amazing underwater world. If you can pull yourself away from the beach head to historic Bridgetown for sightseeing and shopping, and in the evening find a gourmet restaurant on the west coast before dancing the night away in St Lawrence Gap.
Ko Samui, Thailand
Average temperature: 29°C
Flight time: 12 hours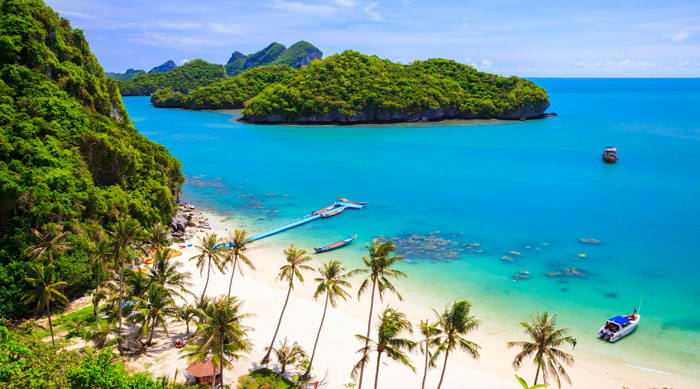 While an August holiday in Thailand is off the cards in most regions due to the monsoon season, the west coast has lovely weather and sizzling temperatures! Ko Samui is the largest of the Gulf Coast islands, and has built a reputation as the place to go for luxury pampering; there are many 5* hotels on Ko Samui and the spa packages on offer are second-to-none. After enjoying a Thai massage visitors can while away afternoons on the beach or take a kayak trip in Ang Thong National Marine Park, and in the evening choose between gourmet food at a high-end restaurant or cheap Thai fare from a street vendor.
Get a trip to Ko Samui for the best price.